University clearing places fill faster than last year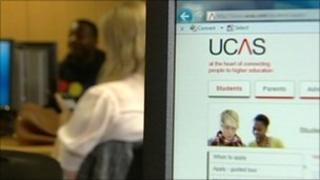 Nearly a third more UK university places have been filled through clearing than at this point last year, figures from admissions body Ucas show.
By early on Monday, 17,878 places had been snapped up through the system used to allocate remaining places, compared to 13,597 a year ago - a 31% rise.
Record university applications ahead of next year's tuition fee rises sparked fears of an unprecedented scramble.
But Ucas says there is only a slight rise in places pressure on last year.
The number of applicants is about 10,000 higher than last year, at 684,098, but the number of places available remains unchanged, at about 480,000.
By Monday, about 425,487 university places had been filled in total, about 10,000 more at this point last year.
This leaves about 55,000 still to be filled.
'Most competitive year'
It remains unclear how many of these are yet to be allocated directly to people who have already applied for them, and how many are available through clearing.
But with more students accepted directly by universities this year, Ucas has said there are likely to be fewer clearing places.
Last year, about 47,000 students got places through clearing, which is used mainly by students who were not offered places or did not get the necessary grades to secure a place they were offered.
Some 300,000 students in England, Wales and Northern Ireland received their A-level results on Thursday.
Many faced a stressful day trying to confirm whether they had a university place, as a key part of the Ucas website was overwhelmed with traffic and had to be taken down for a few hours.
In total, 61,737 applicants are still waiting for a decision on their place, although this is down slightly on last year's figure.
Ucas head Mary Curnock-Cook has said that this year is statistically "the most competitive year in history" for university applications.
But she said the difference is slight, with total applications up just 1% on last year - which was itself a record after larger increases in previous years.
Record numbers - nearly 220,000 - will remain unplaced this year, she has said, although on the basis of past figures, half of those are likely to either turn down places or withdraw their applications.
Fees rise
Many students have been keen to avoid the September 2012 rise in tuition fees, primarily for students living in England, which will see study costs rise nearly threefold.
But Ms Curnock-Cook has said it will still be the right decision for some students to re-apply next year, if the best course for them is not available through clearing.
And Universities Minister David Willetts argues that monthly repayments will be lower and the repayment threshold for graduates will be higher under the new system.
Tuition fees are paid up front by the government, in the form of loans paid back once the graduate begins earning £21,000.
But critics note that students from 2012 will face much higher total debts, and pay higher interest rates.
Universities in England will be charging tuition fees of up to £9,000 - nearly three times the present level of just over £3,000 a year.
Welsh universities are also raising their fees to as much as £9,000, although Welsh students will have the increase subsidised wherever they study in the UK.
Scottish students studying in Scotland pay no fees, but the Scottish government has proposed allowing universities to charge up to £9,000 a year for students from other parts of the UK.
Northern Ireland's ministers have said there will be no major rise in fees in its universities in 2012.