Ucas: Fewer clearing places as acceptances rise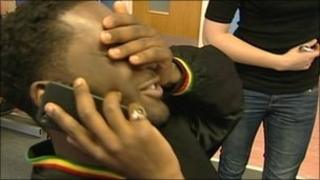 There are fewer clearing places available this year as universities accept more applicants directly, the head of admissions body Ucas has said.
Mary Curnock-Cook said 7,500 more people had been accepted than at this point last year, amid record demand.
As university place numbers are static, this suggests clearing places will be down from 47,000 last year to 39,500.
Ms Curnock-Cook said applicants were "not significantly disadvantaged" when a key Ucas website crashed.
Hundreds of thousands of students in England, Wales and Northern Ireland received their A-level results on Thursday.
This year's university applications are the highest ever, at 682,000 (including international students), in the last year before many UK universities raise tuition fees nearly threefold.
But the total number of places available is the same as last year.
By midnight last night, nearly 402,000 applicants had been accepted, about 7,500 more than at the same point last year.
"More people accepted through the main scheme does mean fewer places in clearing, but that's a good thing because it means that young people are actually being accepted onto the courses that they've spent a few months thinking about and planning for," said Ms Curnock-Cook.
The figures were "self-balancing", she said, meaning those places allocated directly would therefore not be available in clearing.
More than 3,600 applicants had been accepted through clearing by midnight on Thursday, down slightly from the same point last year.
'Taken by surprise'
She apologised for the fact that the Track website, on which students can check the status of university offers, was taken down for a period on Thursday morning.
She said Ucas was "taken by surprise" when it was overwhelmed by peak traffic five times higher than last year.
Many young people said they spent hours trying to log on to find out whether they had been accepted at university and therefore whether they needed to start seeking a clearing place. There were also reports of difficulties getting through to Ucas by phone.
One teacher told the BBC that his students were worried that those who had been able to access the site earlier were "one step ahead".
But Ms Curnock-Cook said: "I do not believe that anybody will have been significantly disadvantaged."
She said students could get the same information from the Ucas phone line, which answered 90% of calls.
The Ucas head said there was an "explosion of communication" on social media, as young people discovered that the Track site was available two hours before its official opening time of 08:00.
Although the system does not give grades, students can see whether they have been accepted at their first or second choice of university.
This is therefore an early indication of their results, which most students would have later been going into school or college to collect, Ms Curnock-Cook said.
"By the time we officially opened at 08:00, the service was really busy, and that was the time we could see that our tolerances for traffic were going to be exceeded, and had to take the difficult decision to take down the service," she said.
A record 195,000 people - 10,000 more than this time last year - are eligible to compete for clearing places this year.
Ms Curnock-Cook said it was statistically "the most competitive year in history", although the increases are small and the picture is "broadly similar to last year".
Record numbers - nearly 220,000 - would remain unplaced, she said, although historically, nearly half of those either turn down places or withdraw their applications.
'Inundated'
No figures are available for the total number of clearing places available, but the number of courses with vacancies is down from 33,105 to 29,409 this year.
Several universities said they had fewer clearing places available this year, and that demand was high.
The University of Gloucestershire said it had had "unprecedented numbers" of calls, and its remaining 50 places went within seven hours.
The University of Kingston said it had been "inundated" with nearly 20,000 call attempts, with two-thirds of its 225 places - down from 378 last year - taken by the end of the day.
And staff at Worcester University said it had only 150 places, down from 300 last year.
All of them apart from places on teacher-training courses had gone by the end of the day, it said.
Speaking on Thursday evening, Universities Minister David Willetts said those who did not get a place this year should not panic.
"I'd say to them: 'Look, there isn't only one chance in life, you can carry on taking new opportunities and applying again next year.'
"The opportunities you may have, for perhaps studying part-time with apprenticeships, you can keep on aiming to fulfil your dreams.
"If people do go to university in 2012 they will have higher maintenance loans, higher maintenance grants, they will be repaying less per month, so that is an option that is available to people."
Fee rise
From next year, universities in England will be charging tuition fees of up to three times the present level of just over £3,000 a year.
Welsh universities are also raising their fees to as much as £9,000, although Welsh students will have the increase subsidised and will pay little more than they do now, wherever they study in the UK.
Scottish students studying in Scotland pay no fees, but Scottish universities plan to charge up to £9,000 a year for students from other parts of the UK from 2012.
However, students studying there - and in Wales - from areas of the EU outside of the UK will be treated the same as "local" students and will not face the higher fees. This is because of European legislation.
Northern Ireland's ministers have said there will be no major rise in fees in its universities in 2012.