Musicians call for wider EBacc subject list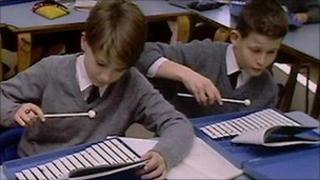 Musicians are urging the government to include creative and cultural subjects in its English Baccalaureate measure.
The benchmark is reached by pupils in England who get at least a C in maths, English, two sciences, a language and history or geography at GCSE.
The Incorporated Society of Musicians and Music Teacher magazine say it should include a "sixth pillar" for a cultural or creative option like music.
The Department for Education said it ensured "core" subjects were studied.
The ISM and Music Teacher magazine are calling on the public to help with the campaign to get music included in the EBacc, as the benchmark is known, by writing to their MP.
A template letter, provided by the groups, says: "I am deeply concerned at the current omission of music and other creative subjects from the English Baccalaureate."
'Enriching' subject
It refers to a report by the Commons education select committee, published in July, which urged ministers to review the EBacc subject list because it risked "shoe-horning" pupils into inappropriate subjects.
"Will you, as my MP, support the recent education select committee's report which called on the government to review its initial subject choice for the English Baccalaureate?" the letter says.
It goes on: "And will you join calls for music to be included as part of a sixth 'pillar' of creative and cultural subject options, to address the omission of music and other creative subjects?
"If we do not protect music, we will put our musical heritage, industry, and the academic and social benefits of music education at risk."
Deborah Annetts, chief executive of the ISM, said: "Not only is music challenging and enriching as a subject in schools, but to forget music at GCSE level is to forget the creative, social, academic, economic, emotional and intellectual benefits of an excellent music education.
"This is to say nothing of its own unique musical value."
Christopher Walters, editor of Music Teacher magazine, said: "Essentially a performance measure, the EBacc will inevitably have negative consequences for any subjects that are excluded from it.
'Reforming the system'
"Music Teacher is therefore delighted to be part of a campaign not only to include music but to introduce an entire sixth pillar of creative subjects, which we believe would greatly improve the impact of the EBacc in our schools."
A Department for Education spokesman said: "The EBacc is there to make sure that every single child gets a chance to study the core academic subjects which top universities demand. But the EBacc is not the be all and end all.
"The White Paper made clear that this is 'only one measure of performance and should not be the limit of schools' ambitions for their pupils'.
"We've protected £82.5m funding for music services this year and are reforming the system so money is targeted where it is needed most in the future."