Q&A: What if I don't make the A-level grade?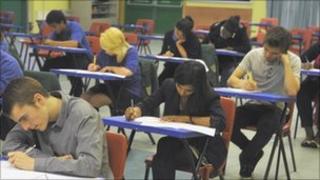 There will be plenty of celebrations as tens of thousands of students in England and Wales get their A-level results. But for some there will be tears and difficult decisions to be made.
What are the options for those who don't get the grades they need to take up a place at their preferred university?
The BBC News website offers a few tips for those who have not made the grade.
What should I do on A-level results day?
You may get your results by text, email or in the post, but it's still a good idea to go to your school or college on results day. By doing this, you can get help and advice from your teachers. Universities will have already got your results, and you can use the Ucas Track system to trace the progress of your application.
What should I do if I don't get the grades I needed?
Hard though it is, it's important not to panic, because there are options open to you. If you don't have the grades for your first choice university or course, you may get offered a place with your insurance or second option.
If you still want to go to university, you can try to get a place through Clearing, but most places go within a few days and you will need to act decisively and fast. If you're on holiday, it's advisable to come home and sort out your options.
How do I get a university place through Clearing?
Clearing is a system offered by the admissions service, Ucas, that finds suitable vacancies on degree courses. If you are flexible and have reasonably good exam results, there is a good chance of finding a course.
You can approach as many universities as you wish during Clearing. Don't feel that you have to accept the first offer. Nearly 47,000 people found places in higher education through the system last year.
How do I find out what courses are available and choose the best one for me?
Official vacancy lists are published on the Ucas website and in The Telegraph newspaper following results day in August. You don't have to stick to the subject choices that you made originally - there may be other areas which might suit you better on the basis of the grades you have.
How do I give myself the best chance of getting a place through Clearing?
You can prepare in advance by researching courses and universities you are interested in, and even phoning before results day to find out if they are likely to have clearing places available.
Plan to get your results as early in the day as you can, to give yourself a head start. Universities and colleges will want to speak with you directly - not your parents! Be prepared to explain why you want to study the course.
How do I challenge my results?
If you feel strongly that your grades are wrong and do not reflect your ability, you can ask for a re-mark of your papers. Requests for re-marking can only be done through your school or college. Make sure someone there is dealing with the matter.
Priority re-marks can be requested for those students with university places at stake. There is a fee for this service which is reimbursed only if there is a grade change. The Joint Council for Qualifications has guidelines on the Post-results service available to schools.
What if I get better grades than expected?
Ucas operates a system called Adjustment for those candidates who get better results than expected and want to try for a more competitive university.
Although the Adjustment process is available from A-level results day until 31 August, individuals only have a five-day window in which to showcase their application to universities.
Of course, with so many young people likely to be rushing to take up places this year before the fees increase next year, the competition will be high. But the good news is that if you don't find a suitable place somewhere else through Adjustment, you will remain accepted at your original choice.
Would it be better to wait until next year and try again?
There is always the possibility of taking a gap year - perhaps doing some volunteer work, travelling or getting a job. But new fee arrangements for degree courses - up to £9k a year - come into force next year, so it's worth thinking things through carefully and taking advice.
Sites like Money saving expert and Student finance direct will give you a good idea of the financial implications.
You could also ask your local further education college for information about other routes to degree-level qualifications, such as foundation degrees and diplomas.
However, some advisers point out that it may be better to wait a year and go somewhere that is right for you, even if it means facing higher fees, than making a hasty decision you will regret later.
Could I do something else altogether?
Not everyone goes to university and many who don't carve out highly successful careers - take Richard Branson or Alan Sugar. Some careers such as accountancy can be pursued with qualifications you study for while working. Apprenticeships are an option, though there can be stiff competition - vacancies are listed on the National Apprenticeships Service website.
Sites like Not going to university might give you a few ideas, and there are also hundreds of job profiles on the government-run Next Step website, with information about how to enter each career.
On the other hand, many professions like teaching and medicine do require a degree and you could find that some doors are closed to you later in life (or much harder to open) if you do not have one.
Where can I go for advice?
If you need help navigating clearing or adjustment, ring Ucas customer service on 0871 468 0 468.
Ucas also operates an exam results helpline on 0808 100 8000, offering advice for young people who do not get the grades they had hoped for.
The government is currently changing its careers advice provision and is phasing out the old Connexions network, but many centres are still operating and can offer face-to-face advice. Or you can email or telephone a careers adviser.
I am Scottish and did not do well in my Highers. What can I do?
The government-funded agency, Skills Development Scotland, has a helpline which offers advice. Scottish students can still use Ucas and its services to find a university place.