Fair marks promised after exam errors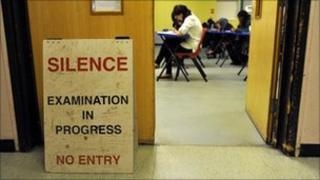 Pupils who took GCSEs and A-level papers which contained errors in questions this summer have been promised they will not be disadvantaged in the final results.
Exam regulators in England, Wales and Northern Ireland have issued a statement reassuring pupils who will be getting their grades later this month.
There were 12 incorrect questions or printing errors in exam papers.
Ofqual promised the marking would create a "level playing field".
This summer's exam season saw a series of mistakes in the exam papers facing pupils.
These included multiple choice questions where all the answers were wrong - and questions which had missed out the information necessary to find an answer.
Pupils who found errors in exam papers contacted news websites and used social networking to highlight the mistakes - and a series of further mistakes emerged over the summer.
Making the grade
In response, exam boards have set out how the marking process has sought to maintain the fairness of results.
This has included adjusting the marking scheme to exclude the incorrect question or else giving all pupils credit for that question.
Grade boundaries will also take into account the possible impact of a wrong question in an exam paper.
There were fears pupils could have wasted time trying to solve an unanswerable question - but the exam boards say they would look at a candidate's performance in other exam papers to see if a pupil might have been "significantly affected" by an error.
University admissions tutors are also being given details of the measures being taken by exam boards to ensure pupils are given a fair mark.
"As regulators, we are satisfied that everything that could be done has been done to make sure that, as far as possible, candidates have not been unfairly advantaged or disadvantaged," said Ofqual chief executive, Glenys Stacey.
Toni Pearce of the National Union of Students said: "The errors identified in exam papers this year were completely unacceptable, but the exam boards and Ofqual have listened to our concerns and taken them seriously.
"The measures that have been put in place should ensure no victim of them is unfairly disadvantaged and we will be monitoring the situation closely to ensure that is the case."