Small colleges could gain university status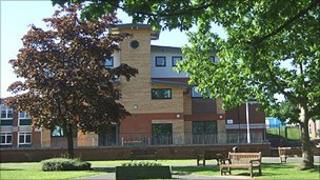 Smaller higher education institutions in England would be able to gain university status, under proposals put forward by the government.
The proposals suggest removing the current requirement for universities to have at least 4,000 students.
It would allow about 10 colleges, which already have their own degree-awarding powers, to become full universities.
The government wants to encourage more new providers into higher education to increase competition.
The Department for Business, Innovation and Skills has begun a consultation on simplifying the regulatory systems for England's universities.
'Perception challenge'
In its White Paper last month it set out plans to encourage more innovation and to create a more diverse market in higher education, including widening the range of universities.
This consultation suggests changes which would make it easier for a group of smaller specialist colleges to become universities.
The use of the title of "university" has so far been tightly restricted.
Lowering the number of students required to be a university from 4,000 to 1,000 would allow about 10 more universities to be created, says the Department for Business, Innovation and Skills.
These are already awarding degrees to students, in specialist areas such as the arts or teacher training.
Among the type of institutions which would be able to become universities are Newman University College, Birmingham and University College Falmouth.
Peter Lutzeier, the principal of Newman University College, said allowing smaller institutions to become universities would help to tackle a "perception challenge", where colleges have to explain their lack of full university status.
"This state of affairs is not only confusing for the public but is also something of an anachronism," said Professor Lutzeier.
"As a university college, while we operate in the same way as universities - conferring our own degrees comparable in quality to those from full universities - we are currently prevented from using the universally-understood term of 'university' due to size alone," he said.
Anne Carlisle, rector of University College Falmouth, said: "High quality, well respected small and specialist higher education institutions deserve to be recognised as full universities."
Andy Westwood, chief executive of the GuildHE group of universities, welcomed the expansion of the use of the term university, as the regulations had been "unduly confusing to students and employers alike".