Hundreds of funded PhDs and Masters courses cut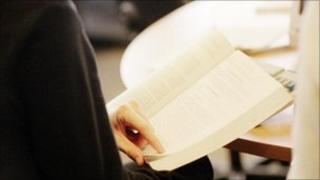 Hundreds of funded PhD and Masters places have been scrapped, figures obtained by Labour indicate.
The Engineering and Physical Sciences Research Council (EPSRC) is cutting the number of PhDs it funds by 1,002 from 2,902 in 2010-11 to 1,900 in 2011-12.
Similarly, the Arts and Humanities Research Council (AHRC) is cutting funded Masters courses from 607 to 490.
The figures were given in response to a parliamentary question by shadow universities minister Gareth Thomas.
The data shows the National Environmental Research Council (NERC) will no longer provide funding for the 285 Masters places it funded in 2010-11.
However, it will increase the number of funded PhD places by five from 325 in 2010-11 to 330 in 2011-12.
The Economic and Social Research Council (ESRC) is also reducing its PhD places, from 730 to 660 over the same period.
'Devastating'
The Biotechnology and Biological Sciences Research Council (BBSRC) is cutting PhD places from 555 in 2010-11 to 530 in 2011-12, but it is maintaining funded Masters places at 110.
Mr Thomas said: "These cuts in PhD and Masters places will have a devastating and profound impact on the range, depth and quality of advanced research, innovation and study taking place in Britain's universities.
"These cuts are a direct result of the government making the wrong choices on university and science funding and will mean the brightest and best will be tempted to go abroad just when we need their groundbreaking research to help foster innovation and fund new economic growth.
"These cuts come on top of university teaching funding having been axed by 80%, investment in world class research facilities set to drop by 40% and a 10% real terms drop in science funding all over the next three years."
A spokeswoman from the EPSRC said the council had stopped funding project studentships.
"We did this in order to prioritise the quality of the PhD experience in a broader environment, mainly through greater cohort-based training as they are particularly sought after by academia and business due to their employability, quality and potential impact.
"Tough financial choices means the current level of students supported is not sustainable."
Resources cut
A spokeswoman from the ESRC said the funding of 730 PhD places in 2010-11 was "an all-time high", with the council funding on average 600 students.
She added: "It is true that we are reducing the numbers, but 600 a year is a fairly substantial number and we have had to think hard about the number of studentships we are able to maintain when resources are being cut."
A spokesman for the BBSRC said the reduction in funded PhD places meant the council would be providing a "higher level of research support costs" for students.
The NERC said: "Masters training remains important for the UK - as a stepping stone into a research career, for discipline-hopping and in providing key skills for the economy.
"However it is increasingly funded by users, and by students themselves as an investment in their careers, and NERC plays only a small role in the wider masters training landscape.
"Future postgraduate support beyond 2010-11 will be dependent on a review of our postgraduate training mechanisms."