Kicking off towards the classroom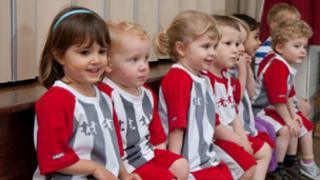 A bunch of toddlers rampaging around after some suitably sized footballs may not seem the most obvious route to academic success.
But the parents at Little Kickers football training in Richmond seem convinced these sessions will stand their children in good stead when they start school.
Torgun, mother of two-and-half-year-old Arden, says: "It's organised chaos! You come and in what you see is children running around with footballs.
"But when the whistle blows these toddlers all do what they are told and go and sit down - well, nearly always!"
A group of nine two and three-year-olds sit quietly on a mat, passing a squashed, sparkly ball to each other in turn.
There is no snatching. There are no defiant cries of "mine!" Instead these usually feisty toddlers say "thank you" sweetly as their turn to hold the treasured item comes around.
They seem polite and considerate beyond their years, and listen patiently as the coach explains the coming game of "swimming" in imaginary crocodile infested waters between different coloured islands.
And when he calls out "Ready, steady... sausages!" - the children collapse in fits of giggles, before setting off with excitement at his whistle.
Coach Graham Ware, who organises Little Kickers sessions in the Richmond area for children aged 18 months to seven, says his first task is to make the children feel welcome.
They get high fives and footballs to play with as they come through the door, and the coaches focus their attention on the toddlers - not their parents.
"It can be really daunting for a child this age to come into a new group in a new place," he says.
But the children soon become familiar with their surroundings and start dashing around.
He continues: "Some of the activities we do aren't really that football specific because you can't do football for an entire 45 minutes for a group of two-year-olds.
"But they are picking up quite a lot from us - not just following instructions, but being with other children and learning how to interact with them. And this is all useful for when they get to school or nursery.
"In fact I have had parents come to me and say how well coming to the sessions has prepared them for this."
'Behaviour challenge'
Mother of three-year-old Luke, Helen, says: "With some of the younger ones, they are a little unsure at the start.
"But you can see how coming weekly builds their confidence for mixing with others, listening to instructions, not being shy and doing things in front of the other children."
Torgun says she wishes she had discovered the classes earlier than she did.
"I have found, in my experience as a parent, that little girls are much better and quicker at learning things like colours and numbers.
"Little girls do want to sit and do things whereas my son can be a little monster when it comes to sitting still - but this has helped enormously."
And there is plenty of research suggesting many boys start school developmentally behind their female counterparts, with more of them struggling with short attention spans and what some primary school teachers call "the fidgets".
Megan Pacey, pre-school education expert and head of the organisation, Early Education, which represents state-run nurseries, says: "We have got a government which is obsessed with school readiness in terms of writing, learning to read - the return of the three Rs.
"What they've left behind is the personal, emotional and social development.
"Being ready for school is all about children being able to chat and to listen to people and to take steps towards independence.
"It's about them being able to tell someone that they need something, like the toilet, but also learning to take turns and know when to speak up.
"All this stuff about engaging with other children and sharing things with them is really important too."
Lessons for parents
Coach Graham adds: "Some parents that come along are really at the end of their tether because they feel their child is behaving really badly."
And he admits that some sessions can be a real challenge.
"If you have a child who seems like they're trying to bring the whole house of cards down. You just have to be patient and confident in yourself and just keep on going."
And in that - there are lessons for the parent too.
As the session draws to a close, all the children take turns to run in and out of cones and attempt to score goals from a generous spot - just one foot from the goal line.
And in moments worthy of great comic genius, many of them miss.
But whether they score or not- as they return to the mat, each doing their own victory dance to great cheers from the admiring parents, the youngsters enjoy another favourite tool of all good teachers - praise.