'Two Britains' qualifications gap emerges in study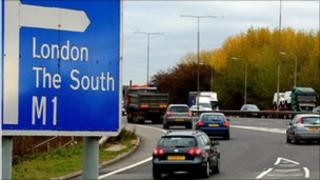 There are huge local variations in levels of education within Britain's adult population, reveals an analysis published by a lecturers' union.
It shows "two Britains" divided by a wide educational gulf, says the University and College Union.
In the Glasgow North East constituency 35% of adults have no qualifications, compared to only 1.9% in Brent North.
The government said children from the poorest backgrounds had been "short-changed for generations".
Social divide
The UCU analysis shows that in some southern constituencies it has become very unusual not to have qualifications - while in parts of the West Midlands it remains widespread.
There are more people without qualifications in Birmingham Hodge Hill than in Cambridge, Winchester, Wimbledon, Buckingham, Romsey, Leeds North West and four other constituencies put together.
Sally Hunt, the UCU's general secretary, warned of a deep social divide.
"Education is central to our country's future, yet in some areas thousands of people still have no qualifications.
"There is a real danger that children, growing up in places where it is not unheard of to have no qualifications, will have their ambition blunted and never realise their full potential."
The figures from the Office for National Statistics, and analysed by the lecturers' union, show the percentages of people aged between the ages of 16 and 64 without any qualifications in parliamentary constituencies in England, Scotland and Wales, up to December 2010.
It reveals concentrations of low educational achievement - including parts of Glasgow, Birmingham, Derby and Bradford, where more than a quarter of the adult population is without a single qualification.
National differences
The lowest-achieving region for education is identified as the West Midlands - with 26 out of 29 seats in the area below the national average in terms of the proportion of adults without qualifications.
Many of the areas with the best-educated workforces are in London and the South East. In places such as Wimbledon and Winchester, only about one in 40 of working-age adults does not have a qualification.
The union also identifies London as being a "city full of contrasts", with big differences in areas that are geographically side by side. For instance, Hackney South has twice as many unqualified residents as Hackney North.
The country's best-educated population, by this measure, is Brent North, in the Wembley area of north-west London, where more than 98% of adults have a qualification.
Many of the lowest educational results in the London region are in the east of capital.
Barking, Ilford South, Romford, Hornchurch, Walthamstow, West Ham and East Ham are all in the lowest-achieving group of London seats.
There were also differences between countries in Britain: England had the best record, followed by Scotland and then Wales.
The lecturers' union says that this map of achievement and underachievement underlines the importance of improving access to education.
And it says that it shows the coalition government has been wrong to increase university tuition fees and to scrap education maintenance allowances.
The Department for Education said it was targeting reforms at children who needed most support - including increasing the number of academies, using the pupil premium to give schools money to spend on the poorest children, and "stripping away poor qualifications".