Gove holds firm on school rebuild plans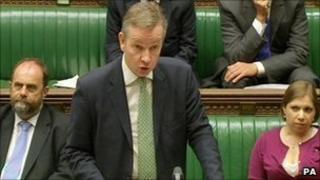 The education secretary has refused to reinstate a string of school revamps which the High Court said he scrapped unlawfully.
Michael Gove was ordered to look again at his decision to axe 58 school rebuilds in six council areas, on the grounds that he failed to consult them.
But Mr Gove only agreed to meet the councils' costs.
In future cash for England's school building would be targeted at the most dilapidated schools, he added.
Mr Justice Holman, who heard the case back in February, said Mr Gove had acted unlawfully in the way he scrapped the schemes in six areas because he failed to consult the local authorities affected.
But he said it was wholly up to Mr Gove to decided whether or not to reinstate the schemes in Waltham Forest, Luton, Nottingham, Sandwell, Kent and Newham.
Mr Gove told the Commons that the judge had found against him on procedural grounds but insisted that his department won on the substantive points.
'Dilapidated'
He said he had written to the councils to let them know he was prepared to indemnify them for their contractual liabilities, but that he would not be restoring their specific Building Schools for the Future (BSF) projects.
However, he said the councils would have a further opportunity to make representations to him before he made his final decision.
But he added they would all be eligible to bid for funds from a new school rebuilding programme, which is expected to fund between 100 and 300 new schools. But the Department for Education could not say how much it would be investing.
Mr Gove told the Commons: "I appreciate that the local authorities, and their representatives, will be disappointed.
"But let me also be clear - this decision, if confirmed after any representations have been made, does not mean no new school buildings in their areas.
"They will all be eligible for support from the new programmes I am establishing to cater for population growth in the areas most in need and the worst dilapidation.
Pressure on places
"That is central to my reasoning on why I am minded not to restore their projects. I want to ensure absolute fairness in the distribution of resources at my disposal."
Sandwell Council leader Darren Cooper said the decision was a "bitter blow to pupils, parents, teachers and governors".
He added: "This is not the end. We intend to see if there is any more we can do to fight this injustice and we will use every means at our disposal."
The new building fund would be open to all local authorities and schools and will replace Labour's flagship BSF scheme, which Mr Gove axed in its entirety last year because he said it was inefficient.
The move ended school rebuilds in about 700 schools and prompted outrage from head teachers, pupils and MPs. About 600 schemes that were far advanced went ahead.
He said funds would from now on be allocated on the basis of need, with money going to the most dilapidated schools.
'In tatters'
Mr Gove has also ordered a full survey of the school estate to discover the areas of highest physical need.
Under the new scheme, schools would be invited to use standardised off-the-shelf designs in order to keep down costs.
Shadow education secretary Andy Burnham challenged Mr Gove to reveal how much it was costing the taxpayer to reimburse the six councils.
He said Mr Gove had failed to get a good deal from the Treasury for school buildings and that the spending review had left the budget for this "in tatters".
Ty Goddard, director of the British Council for School Environments, said: "The importance of a comprehensive survey into the school estate cannot be understated - we can't be sure of what we need to do until we're sure of what the problems are.
"Complete standardisation of design may not be a panacea - one size does not fit all.
Mr Gove also announced an additional £500m to fund new school places in England in areas with the highest pressure on places.
He said the money, available within this financial year, was being made available to primary schools in particular which are facing pressure in dealing with rising numbers this September.
London Councils' executive member for children and young people Councillor Steve Reed said the new money to help London's local authorities provide enough school places for the capital's children was welcome.
"However the pressures faced in London are so great that we need almost all of the money announced today just to ensure every London child has a permanent school place in 2011/12," he said.