Tougher truancy guidelines are introduced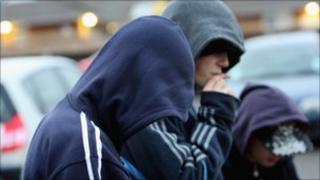 The way in which pupils in England are judged to be "persistent truants" is being tightened from October.
The Department for Education is changing the definition of "persistent absence" from missing 20% of lessons to missing 15%.
Ministers say while 184,000 pupils miss 20% of lessons, more than 430,000 miss 15% of lessons a year - the equivalent of having a month off school a year.
Teachers' unions say the new threshold will not tackle the roots of truancy.
The Department said there was clear evidence of a link between poor attendance and low levels of achievement, with only 3% of pupils who miss more than 50% of school getting the benchmark of five GCSEs at grade A* to C, including English and maths.
Of those who missed between 10% and 20%, only 35% managed to achieve the benchmark.
The government said for pupils who missed less than 5% of school, 73% achieved five A* to Cs, including English and maths.
Anti-social behaviour
Government adviser on behaviour in schools Charlie Taylor said: "As a teacher, I know how the poor attendance of pupils can disrupt their own learning and that of other pupils.
"Quickly these children begin to fall behind their friends and often fail to fill in gaps in their skills or knowledge - sometimes in basics like reading or writing.
"Over time these pupils can become bored and disillusioned with education. These pupils are lost to the system, and can fall into anti-social behaviour and crime. That is why it is vital schools tackle absenteeism."
Schools Minister Nick Gibb said: "By changing the threshold on persistent absence, we are encouraging schools to crack down on persistent absenteeism.
"We will be setting out over the coming months stronger powers for schools to use if they wish to send a clear message to parents that persistent absence is unacceptable."
'Ineffective replacement'
The Association of School and College Leaders said arbitrary targets for persistent absence would not help to address the complex problem of truancy.
ASCL general secretary Brian Lightman said: "This is another example of using accountability targets as an ineffective replacement for effective strategies to address the issues. Publication of yet more raw figures will simply enable misleading conclusions to be drawn.
"Dealing with the very small core of pupils who persistently truant, and whose parents condone this, requires perseverance, investment and a real commitment to cross-agency collaboration."
He added: "One issue with the government's definition of persistent absence is that it includes young people with long-term health problems and disabilities who may well be in hospital or unable to attend for medical reasons.
"Setting arbitrary targets will only discourage schools from taking on additional pupils with serious medical issues, as those schools that do will be unjustly labelled and blamed."
Christine Blower, general secretary of the National Union of Teachers, said reducing the percentage at which persistent absence was identified would not make schools take action more effectively.
"In some areas intervention programmes, where education social workers, schools and the police work together to engage young people to ensure that their attitude to school is changed and that their parents are involved in supporting good attendance, have had very positive results.
"This kind of longer term intervention may be more expensive initially, but in the longer term is far more cost effective in ensuring that all children and young people attend school and achieve well."