Poor pupils in struggling schools 'lag further behind'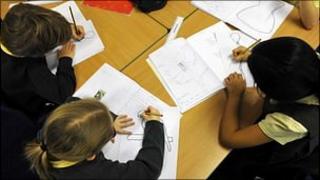 The gap between the poorest pupils and their better-off peers in struggling schools in England is wider than in other schools, research suggests.
A Sutton Trust study found pupils eligible for free school meals in schools below national standards were a third as likely to reach GCSE targets as better-off peers elsewhere.
White British pupils "seemed to pose the biggest challenge", the study said.
The government said it was targeting funds at the poorest pupils.
The trust studied 165,000 pupils in primary and secondary schools in England whose results fell below targets set by the government.
It found only 40% of these children reached expected standards at primary school, compared to 81% of children not eligible for free meals who attended schools which attained the government targets.
At secondary level, only 18% reached the target level - five A-C GCSE passes including English and maths - while 61% of their wealthier peers in schools that were not struggling reached the benchmark.
"These attainment gaps are significantly larger than the gaps between free school meals-eligible pupils in all schools and their peers who are not eligible for free school meals," the report said.
At secondary level, white British children in this category lagged behind most other major ethnic groups.
For example, they were only half as likely to reach the GCSE target as Bangladeshi children, and also lagged behind Pakistani, Black African, Caribbean and Asian pupils.
In the primary schools identified as underperforming in 2010, attainment had dropped 13% in the past three years, the study said.
'Stark reminder'
The trust is launching an Education Endowment Foundation (EEF) targeting this group of children, using £125m of government money and income from other sources.
Charities, schools, local authorities and other organisations will be able to apply for funds for projects aimed at raising the attainment of the poorest children in the worst-performing schools.
The Sutton Trust says it will aim to focus support on "innovative projects and on scaling-up projects which are cost effective and have the potential to be replicated in other schools".
Sir Peter Lampl, chairman of the EEF and the Sutton Trust, said the research was "a stark reminder of the inequalities facing poor pupils in this country".
"Too little is known about what works in raising the achievement of the poorest pupils and it is incumbent on us... to help address this."
Education Secretary Michael Gove said: "It is a scandal that the results of the poorest children in the weakest primary schools have actually worsened over the last three years."
He said the new fund, together with the pupil premium - money allocated to schools for every child they teach who is eligible for free school meals - would "ensure that more resources and expertise get to the children who need it most".
Raising standards
In June he announced that 200 of the worst-performing schools in England would be closed and reopened as academies, run independently of local authorities, in September 2012.
A further 500 schools would be targeted for conversion in the following years, he said.
He also said he planned to raise the targets for secondary schools.
At present a school is assessed as underperforming if fewer than 35% of pupils get five GCSEs at grades A* to C, including maths and English,
But the government plans to raise this to 50% by 2015.
For primary schools, the target is 60% of pupils achieving level four in English and maths in the national curriculum tests known as Sats.
Also, for either a primary or a secondary school to be considered underperforming, more pupils than the national average must be failing to make the expected amount of progress in maths and English.