Rate schools on access to universities, Ucas chief says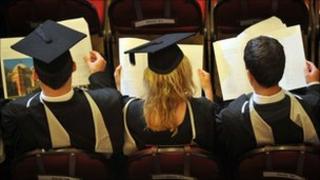 Schools should be rated on the number of pupils they get into universities, the head of the university admissions service says.
Ucas chief Mary Curnock Cook says league tables have led schools to "unduly" focus on upping GCSE results.
She argues the focus should now switch to schools' higher education success to boost the number of poor pupils in universities.
The government plans to publish data on the destination of schools leavers.
Ucas chief executive Mrs Curnock Cook said: "Schools for many years have been completely focused on getting their percentage of five good GCSEs up.
"Until the government measures and tracks the destination of school leavers into higher education I don't think it will change. I think it is almost essential.
"Higher education has become mass education and more people enter higher education today than took O-levels in the early 1980s.
"The measure of performance in schools needs to shift up in the way that achievement has."
'Ambitions'
The comments come as a report for the education charity, the Sutton Trust, suggests five schools - including four top independent schools - get more pupils into Oxford and Cambridge than another 2,000 schools put together.
Ms Curnock Cook also suggested that some schools were encouraging pupils into taking GCSE-equivalents, which will help pupils get through the five good GCSEs threshold, but which could hold them back in their university ambitions.
She said: "Some of these more applied-style qualifications are supposed to be equivalent to four to five GCSEs.
"One of the problems is that young people are advised at age 13 parents' evenings to take OCRs or BTecs, not that I have anything against these qualifications, but it is then much harder for them to transfer into the GCE (A-level) curriculum.
"Young people need to understand that more broadly based academic subjects won't close the door to anything.
"If you have a clutch of 3.5 A-levels - it gives you a broad spread of courses you can apply for," she added.
'Informed choices'
Some 73% of students who are accepted on to degree courses do so with A-levels. This rises to 90% for Russell Group universities.
A Department for Education spokesman said: "We live in an age when people expect to have access to much more information about every area of their lives, and schools should be no different.
"Parents need as much data so they can make genuinely informed choices about which school is right for their child.
"We are going to be publishing far more information about how schools do - including from next year, the proportion of students getting into Higher Education as well as into the top universities.
"This will help up standards; reduces perverse incentives to offer qualifications which universities and employers do not value; and make schools more accountable for their performance."
This week, Ucas reported a small increase of 1.4% on applications for university courses starting in 2011 compared to this time last year.
But this slight rise comes against the backdrop of a 3% dip in the number of 18-year-olds in the UK population compared to last year and a significant increase in the number of higher level apprenticeships being taken.
Some 566,000 candidates based in the UK have applied to universities so far this year. Last year some 432,524 applicants were accepted on to courses.
And there has been a significant drop, 36.7% or 17,447, in the number of applicants planning to defer their course for a year. Deferring would mean they would be paying higher tuition fees.