Hundreds of heads report concerns over Sats marks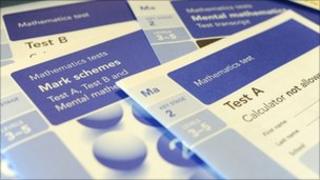 More than 300 heads in England have lodged concerns with the National Association of Head Teachers over the marking of some of this year's national curriculum tests, known as Sats.
Within two hours of sending out a poll about the marking of creative writing papers taken in May, the NAHT got 400 responses, 308 of whom were unhappy.
The BBC has had dozens of e-mails from heads angry at "inconsistencies".
The Department for Education said markers received thorough training.
The NAHT sent out the survey to 10,000 members on Wednesday lunchtime and the full results will be released on 15 July when the poll closes.
A separate poll of 121 schools in Lancashire, carried out by the local branch of the NAHT, found 117 heads were unhappy with results.
The union said it was conducting the national survey because of an unusually high number of calls to its advisers regarding this year's results for English papers, taken by final-year primary pupils.
'Steam of fury'
The calls relate largely to a section of the English test, where pupils are asked to produce a piece of creative writing.
A recent review has called for this part of the test to be scrapped and replaced by teacher assessment.
NAHT general secretary Russell Hobby said: "The volume of calls coming in is such that we feel we have get a more comprehensive sense of feeling.
"People ringing up in a steam of fury is unusual. People are reporting very inconsistent marking."
Mr Hobby said teachers and pupils deserved a robust, accurate marking system.
"If a school did this, it would get into deep trouble.
"But there's a dual standard going on when you get this level of quality control going on elsewhere."
'Appalled'
Several head teachers have contacted the BBC News website to express their concern at "inconsistencies" in the marking of English papers.
Graham Howarth, from Holcombe Brook Primary School in Bury, Lancashire, told the BBC he was appalled: "Able children who obviously are working at Level 5 have been marked down and others have over-achieved compared to expectations."
Mr Howarth said he and his Year 6 teachers would be spending Thursday morning going through scripts to work out which ones to send back.
"We could use our time better at this time of the year," he said.
"I've never sent them back before, I've never had cause to send them back."
Nigel Duncan, head of Meadow Vale School in Bracknell, said the inconsistent marking was shocking.
"We will be sending a number of papers, at least 12, for review. These scripts are papers which give an incorrect level in relation to teacher assessment.
"This inconsistency has a significant impact on other data used to measure schools - ie two levels of progress in English, Level 4 in English and maths.
"All of this goes into the public domain and if it's incorrect, clearly it's not acceptable."
Delayed results
Alison Blant, head of Pitsea Junior School in Essex, said she would be sending all 44 of her Year 6 pupils' papers back for remarking.
She has also paid for two local authority advisers to help her go through the papers and indicate where the marking had gone wrong.
Ms Blant said the remarking meant children would not receive their Sats results until they were at secondary school and the "impetus had worn off".
"The staff are upset and demoralised," she added.
John Mapperley, head of St Peter's Church of England School in Ruddington, Nottinghamshire, told the BBC: "It was immediately apparent there was an issue.
"It was also obvious the marks were compressed into a very small band."
Mr Mapperley said he would be sending about 20 of the 56 scripts back for remarking.
"It calls into question the integrity of the whole process."
He is also writing to his MP Kenneth Clarke and to the Education Secretary, Michael Gove, to complain.
Appeals
Marked test papers were returned to schools last week, but head teachers were only sent details of the thresholds - the marks required to meet the different levels - on Tuesday 5 July.
They have from then until 15 July to request a review if they wish to question the marks given. They can only appeal over papers where the child would be awarded a higher level - in other words, they can only appeal on borderline cases.
Schools pay £9 per returned script and get the money back if their appeal is successful.
A spokesman for the Department for Education said: "Children have the right to have their papers fairly marked.
"Key Stage 2 test markers, who are practising or retired teachers, receive thorough training and undergo a number of quality checks through the marking process.
"Schools which disagree with the results for any pupils are able to request a review of the marking. These reviews play an important part in quality assuring pupils' results.
"Ofqual regulates Key Stage 2 tests and has said it will continue to monitor and safeguard the quality of marking.
"We are currently considering Lord Bew's recommendations as to how we can improve our testing and assessment system."
In June, a review of Sats by Lord Bew recommended the creative writing test should be scrapped and children's creative writing skills assessed by teachers.
But Lord Bew said pupils should still face official tests of spelling, grammar and punctuation as well as reading and maths.
Boycott
The NAHT, along with the National Union of Teachers, was involved in a boycott of Sats by heads in 2010.
The unions said the tests did not give a true picture of pupils' attainment, encouraged teaching to the test and put pupils under pressure.
They also argued that the way the tests are used to compile league tables was divisive.
The boycott meant Year 6 pupils in 4,005 schools in England did not sit the tests last year.