Head teachers angry over Sats creative writing marks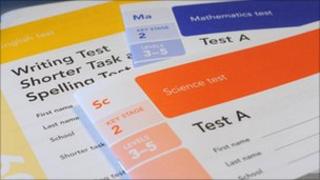 Head teachers fear some pupils in England have been graded incorrectly in a writing test that forms part of their national curriculum tests or Sats.
The National Association of Head Teachers (NAHT) says many of its members say higher and lower attaining pupils have been graded incorrectly.
The writing tests, which a recent government review recommends scrapping, were taken in May by 11-year-olds.
The Department for Education says no complaints have been received.
Marked test papers were returned to schools last week, but head teachers were only sent details of the thresholds - the marks required to meet the different levels - on Tuesday 5 July.
They have from then until 15 July to request a review if they wish to question the marks given.
Schools pay £9 per returned script and get the money back if their appeal is successful.
'Disgraceful'
The NAHT says it has had many calls from head teachers across the country concerned by this year's marking.
It also polled members in one local authority - Lancashire - where 47 out of 48 respondents reported "serious inconsistencies" in the way different papers were marked.
Several head teachers have also told the BBC they have found inconsistencies with this year's marks.
Matthew Bradbury, deputy head at St Anthony's Catholic School in Wolverhampton, said he would be sending back 15 pupils' English papers out of a total of 43.
"And these are only the ones where we think they could change a level," he said.
Mr Bradbury, who has been in charge of Sats at his school for 15 years, said the scores this year were "bizarre, to say the least".
"As these results are used to judge both the children and the school, the marking is disgraceful.
"If it wasn't serious, it would be laughable."
Kim Docking, head teacher at Walsgrave School in Coventry, told the BBC: "We have questions regarding the quality of marking for writing in particular.
"Scripts of different standards have been levelled the same and there is a general feeling of marking to the middle.
"Some of the lower ability children have done better than we thought - it didn't mirror what we expected.
"There's just a feeling of 'Gosh, these don't seem to have been marked terribly well.'"
Mrs Docking said it was "hardly surprising" that the Department for Education had not received any complaints yet, as the period within which schools can complain only began on Tuesday.
One school leader told the NAHT: "My Year 6 teachers are very experienced in levelling writing and they are horrified - some children who we consider have written Level 5 writing have been marked right down and others whose writing is definitely not Level 5 have been awarded high marks. It is unbelievable."
"None of the children's scores were an accurate reflection of their ability or teachers' assessment," said another.
Review
In June, a review of Sats by Lord Bew recommended the creative writing test should be scrapped and children's creative writing skills assessed by teachers.
But Lord Bew said pupils should still face official tests of spelling, grammar and punctuation as well as reading and maths.
A Department for Education spokesman said: "Any school which disagrees with the results for any pupils is able to request a review of the marking."
He said no complaints had been received by the Department or by the Qualifications and Curriculum Development Agency.
The exams watchdog, Ofqual, said it had been monitoring national curriculum tests closely this year and would report its findings later in the year.
"We would advise any teachers who believe there to be marking inaccuracies to apply for a marking review," a spokesman said.
"Ofqual has not received any complaints regarding the marking of this year's national curriculum assessments."
'Low quality control'
NAHT general secretary Russell Hobby said: "Anyone who thinks that external tests are somehow an 'objective' measure of pupils' achievement should be rapidly disabused of the notion by this year's second exam fiasco.
"Inconsistencies abound this year, along with stark examples of low quality control.
"As a nation, we pour massive sums of money into setting and marking Sats - money which could be far better spent on teaching children.
"We can only hope that the government pays serious attention to the recommendations of Lord Bew for more teacher assessment.
"This is another nail in the coffin for testing as a gold standard of assessment. Certainly the case for the end of the writing test is now cut and dried.
"We are receiving dozens of unsolicited calls and emails every day about this problem, which is bound to be the tip of the iceberg in terms of impact."