Exam regulator launches errors inquiry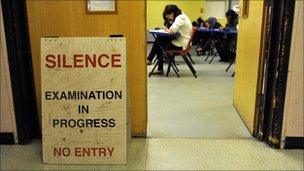 Exams regulator Ofqual has launched an inquiry into a string of errors in this summer's exam papers.
The regulator said it would be trying to find the root causes of the 10 blunders that have emerged over the past few weeks.
Three exam boards in England and one in Northern Ireland have experienced problems with errors in their papers.
Deputy chair of Ofqual, Sandra Burslem, said the body had made it clear that exam paper errors were unacceptable.
She said: "Ofqual's priorities during the exam season were to make sure the awarding organisations did everything possible to prevent further errors and to make sure that, where errors have occurred, the marking of papers neither unfairly advantages or disadvantages the candidates involved.
"Now that the taking of exams is over we turn our attention to an inquiry."
She said the inquiry would hold the exam boards to account for their mistakes by finding out what had caused the errors and how they could be put right.
It would also look at the need for any necessary improvements and arrangements for risk management. And it would set out any decisions on further regulatory action related to the errors.
She added: "The regulators will not hesitate to take regulatory action as necessary at any stage to protect the interests of students."
So far 10 errors have been identified on exam papers from three exam boards in England, OCR, AQA and Edexcel, and one board in Northern Ireland, CCEA.
Ofqual said it would continue to work to ensure that any candidates faced with exam errors were not unfairly disadvantaged or advantaged as a result.
National Union of Students vice-president for further education Toni Pearce welcomed the inquiry, saying: "It is vital that students are able to have full confidence in the exam paper in front of them.
"We have heard from many students worried about the added stress of wondering if a difficult question is in fact unanswerable.
"It is unacceptable for exam boards to let even one error slip through and they should be forced to compensate every student who feels they have been disadvantaged by exam board error."
Dr Jim Sinclair, director of the Joint Council for Qualifications, which represents exam boards, said the council welcomed the inquiry and would continue to work with the regulators to identify the causes of the errors.
"This inquiry builds on the rigorous investigations awarding bodies are carrying out within their own organisations.
"The examination system is huge, and the questions and papers that contained errors - although unacceptable - represent a tiny proportion of the total number. Each year awarding bodies set more than 60,000 questions."
He said awarding bodies deeply regretted the errors that occurred and apologised to students who took the papers.
The Schools Minister Nick Gibb said it was right that the watchdog should take a "tough line" with the exam bodies.
"These are important exams and students affected will understandably be concerned about these mistakes," he said.
"We expect exam boards to carry out their clear responsibility to ensure exam papers are free from errors, and to make sure that students are not disadvantaged by these failures."
Related Internet Links
The BBC is not responsible for the content of external sites.