Graduate jobs 'rise despite record applicants per post'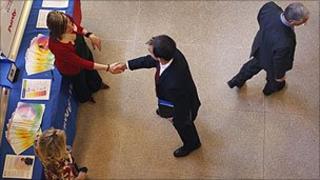 Graduate job opportunities in the UK are set to rise by 2.6% this year, despite record application numbers for each vacancy, a survey has suggested.
Average applications per job have risen to 83 in 2011, from 69 in 2010, 49 in 2009 and 31 in 2008, the Association of Graduate Recruiters (AGR) said.
Its bi-annual survey of 200 employers said starting salaries had also risen.
The vice chancellors' body said the survey findings were "encouraging".
The report shows a continuing upward trend in job opportunities for graduates, after a steep decline in the immediate wake of the financial crisis.
However, growth is slower than the 8.9% increase AGR recorded in its January 2011 survey.
The average starting salary for a graduate has increased by 2% to £25,500, the report said.
Carl Gilleard, chief executive of the AGR, said the survey showed "very encouraging signs" for graduates, despite the rise in competition.
He told the BBC Radio 4's Today programme there were now more graduates chasing the vacancies than in the past, both in terms of those leaving university and those from recent years who were "still trying to get a toehold on the career ladder".
He added: "We suspect graduates are applying for a lot more jobs, because they recognise the market is tight and they think the best strategy is to fire off a lot of applications."
'Encouraging'
"I am cautiously optimistic about today's findings, which provides a welcome indication that the graduate recruitment market is beginning to overcome the impact of the recession," he said.
Universities Minister David Willetts said despite tough competition for graduate jobs, university remained a worthwhile investment.
"All the evidence I've seen has been that going to university by and large improves your job prospects," he told BBC Breakfast.
"Graduate rates of employment are higher than for non-graduates and of course they're more likely to be in better paid jobs," he said.
Nicola Dandridge, chief executive of vice-chancellors' umbrella group Universities UK, said the survey findings were "encouraging news".
"Competition for some graduate positions remains intense, but the predicted rise in the number of graduate vacancies is positive," she said.
"UK graduates are still highly valued by employers. The UK is only going to compete globally on high-level skills," she said.
"Let's not forget that China, it's predicted, will be producing more graduates than Europe and the US combined by 2020."