Literacy and numeracy tests toughened for new teachers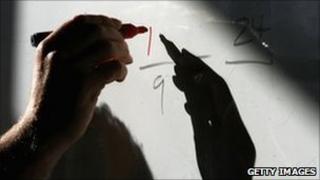 Students will not be allowed to enter teacher training in England if they fail basic numeracy and literacy tests three times, under tougher rules to raise teaching standards.
At present students are allowed to take unlimited re-sits while they train.
The Department for Education said one in 10 trainees takes the numeracy test more than three times, while the figure is one in 14 for the literacy test.
The National Union of Teachers said it considered the tests "superfluous".
The aim is to improve the standard of students entering teaching.
From September 2012, candidates will have to pass the assessments before they are permitted to begin their training courses.
The tests are the same for both primary and secondary school teacher trainees, who must also have achieved a grade C or above in GCSE maths and English.
'Toughening up'
The numeracy tests cover reading graphs and tables, as well as mental arithmetic questions including percentages and fractions.
Grammar, punctuation, spelling and comprehension are covered in the literacy tests.
The government is expected to publish details on Monday of changes to teacher training.
Education Secretary Michael Gove said the proposals would "emphasise our commitment to boosting the status of the profession by toughening up the recruitment process and ensuring that all new teachers have a real depth of knowledge in their subject".
But the NUT said candidates who needed several resits to pass the tests were dyslexic, had English as an additional language, or were less familiar with the on-line testing system.
"The NUT has always argued that the entry requirements for initial teacher education, which include GCSE passes grade C or above in English and maths, should be sufficient and make the additional skills tests superfluous," said General Secretary Christine Blower.
The National Association of Head Teachers said it was right to have "demanding expectations" of recruits to the profession.
But the union's general secretary, Russell Hobby, said: "We should not fall into the trap of thinking, however, that academic excellence necessarily makes someone a great teacher. We want smart people, but we also want visionary, caring, energetic, creative and thoughtful people."
And he warned that pay levels and cuts to pensions were deterrents to new entrants.
The Department for Education has already said that training bursaries, available for sciences, maths and languages, will only be available for candidates who have a 2.2 degree or above.
It also plans to develop a network of "teaching schools", which will focus on training teachers, in conjunction with universities, as well as professional development for more experienced staff.
The first 100 are due to launch in September 2011, with another 400 expected in the following three years, the DfE said.