Top students expansion plan 'could hit social mobility'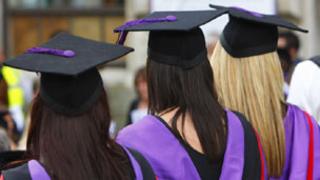 Plans to allow universities to expand by encouraging them to take more high-achieving pupils could undermine social mobility, a universities leader says.
Moves to relax the limit on places for students who get AAB grades at A-level are widely expected in the forthcoming higher education White Paper.
Pam Tatlow head of the Million+ group says the plans "completely undermine" efforts to recruit poor students.
The government says it wants to increase social mobility.
A shake-up of universities, expected to be published next week, will set out how the government wants to change higher education.
University market
It is expected that there will be proposals to encourage more of a market in higher education, including encouraging more private providers.
Competition will also be encouraged by giving students more consumer information and more rights in the form of a "students charter".
Universities will be competing for funding for places - as it is expected that they will have a reduced number of guaranteed "core" places and will have to bid for the remainder.
Universities will also be able to expand by allowing them to recruit more students with at least two grade As and a B at A-level. About 50,000 pupils achieve these grades every year.
Then overall numbers of students from England below the AAB borderline would be reduced.
It is designed to introduce some competition between higher ranking universities as they compete for the highest achievers.
But in recent years universities have been urged to make offers of places based on an assessment of a student's potential - not just their raw grades.
This is known as using contextual data and can mean admissions tutors make lower offers for students from state schools than for those from independent schools.
Ms Tatlow, head of the Million+ group of new universities, said of the plan to allow universities to take more AAB students: "If the government goes down this path it may well compromise universities' abilities to use contextual data in admissions.
"This would greatly undermine their hopes for improved social mobility."
"The real risk is that all this distracts from the major challenge for 2012 which is ensuring that students with a range of qualifications are still encouraged to study at university."
Budget courses
She also said the plan might have the unintended consequence of reducing the number of students studying science, technology, engineering and maths - the so-called STEM subjects - because students tend to get higher grades in the arts and humanities.
And she also warned that the system would affect a small number of students and be very bureaucratic and complex to administer.
Vice-chancellor of Roehampton University Paul O' Prey also has concerns about the expected plan.
He suggested it would do nothing to increase the number of students going to university.
"If you get two As and a B and you want to go to university you will be going to university anyway," he said.
But he warned that because the way these places were likely to be allocated, a lot of high-achieving students who narrowly miss out on getting their prediction of an AAB could "find themselves in clearing" looking for a place.
Also expected in the White Paper are plans to allow universities which charge less than a certain amount, possibly £6,000 or £7,500, to recruit extra students.
The idea is to create competition for students between these universities and those charging a higher fee. This could lower the overall average fee level.
But Professor O'Prey warned that few providers would be able to provide a quality experience for that amount of money.
Roehampton is planning to charge two different fees £7,900 and £8,250.
He said: "We have worked hard to get that fee down by bringing our costs down by 15%.
"I think we will see lots of different types of providers coming into the market and no longer will we have a traditional university experience.
"What we need to do is, as that happens, ensure that students are protected and public confidence is protected."