Teenagers to challenge university fees rise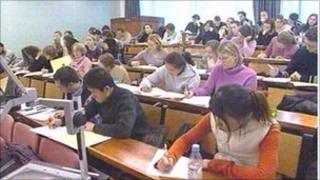 Two teenagers have been given the right to mount a High Court challenge to plans to increase tuition fees at England's universities.
A judge has ruled that their case should be given a full hearing - a judicial review.
Fees at England's universities are due to rise from about £3,000 a year now to a maximum of £9,000 a year in 2012.
The students, aged 16 and 17, say the rise will contravene human rights law.
They will argue that poorer students and those from ethnic minorities could be discriminated against by the change and that the government failed to give due regard to promoting equality of opportunity, required under discrimination law.
'Elitism and wealth'
Phil Shiner of Public Interest Lawyers is representing the students, Callum Hurley from Peterborough and Katy Moore from London.
He said: "This is a major breakthrough and my clients now get a full hearing of their case which affects the next generations of students from less well-off backgrounds.
"This case challenges the government's bare-faced agenda to make our society one based on elitism and wealth."
From autumn 2012, universities in England will be able to increase fees.
The government originally said the maximum fee of £9,000 should only be set in "exceptional circumstances", but so far two thirds of universities have indicated that they want to charge that amount for all or some of their courses.
It has not commented on this particular case but argues in general that its plans provide good support for poorer students.
Tuition fees will be covered by student loans, which graduates will begin paying off once they earn at least £21,000 a year.
There will also be maintenance grants and extra loans for poorer students to cover living costs.
In addition, universities wanting to charge more than £6,000 a year are being told they have to show they are working to attract poorer students.