Primary school appeals rise amid places pressure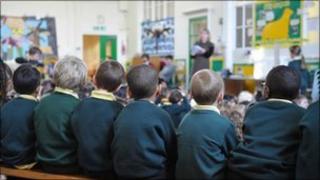 The number of parents appealing against primary-school admissions decisions in England has risen 10%, amid rising class sizes and pressure on places.
Some 42,000 families challenged primary schools for failing to give them places in 2009-10, compared with 38,000 the previous year, official figures show.
Infant class sizes also rose, as did the proportions of pupils receiving free meals and from ethnic minorities.
Schools Minister Nick Gibb said parents were unhappy with the lack of choice.
Appeals against place allocations in state primary schools have risen year on year for the past five years.
More than 5% of all school-place decisions were contested in 2009-10 - compared with just 2.7% in 2005-6.
There was also a rise in the proportion of successful appeals - up to 16.1% from 15.8% a year ago.
However, the number of appeals over secondary school places dropped, from 50,000 to 43,000.
Data also published on Wednesday showed the biggest rise in five years in the proportion of infant classes with more than 30 pupils - up to 2.5% from 1.8% in 2010.
'Pressure on places'
There is a legal limit of 30 pupils, except in certain exceptional circumstances.
In January 2011, when the schools' census was taken, nearly 10,000 pupils were being taught in classes unlawfully above the limit.
The census also showed the proportion of children in state schools eligible for - and claiming - free school meals was at its highest in five years, at 18% - up from 16% in 2007.
The proportion of children from ethnic minorities has also grown, from 25.5% to 26.5% in primary schools, and from 21.4 to 22.2% in secondary schools.
The data also showed that nearly a million school pupils in England do not have English as their first language.
The proportion of such children has risen from 16% to 16.8% in the last year in state primary schools, and 11.6% to 12.3% in secondaries.
The total number of primary school children has risen slightly, while the secondary school cohort has declined.
Schools Minister Nick Gibb said: "It is clear that rising birth rates are increasing demand and pressure on primary places, with more parents unhappy with the lack of choice open to them.
"The education system has rationed places in good schools for too long," he said.
He added that the government was encouraging the setting up of scores of free schools, turning around the weakest 200 primaries and allowing popular schools to expand, while targeting capital investment where new school places were most needed.