What will market forces mean for universities?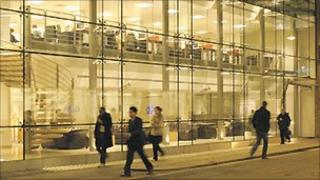 The forthcoming White Paper for higher education looks set to be the turning point for the growth of private institutions offering undergraduate degrees in England.
Even before AC Grayling unveiled his controversial plans for the private, £18,000-a-year, New College of the Humanities, Universities Minister, David Willetts, had said he was looking forward to "new liberal arts colleges", specialist institutions and "global higher education providers" entering the UK system.
Narrowing gap
But what exactly is meant by a "private" university?
Perhaps the simplest definition is an institution without public funding, unlike traditional universities that receive government grants for both teaching and research.
Yet the dramatic shift from teaching grants to tuition fee income at mainstream universities means the difference between public and private is narrowing fast.
The cut in teaching grants goes a long way towards creating a level playing-field for private universities, which rely almost entirely on fee income.
But who are these private providers?
Some operators are in it for profit. These are mainly big US companies that have either bought their way into the UK market or are working in partnership with public universities. But others are charities or not for profit.
Currently there are five private providers that have their own UK degree-awarding powers - Buckingham University, the College of Law, IFS School of Finance, Ashridge Business School and BPP University College.
Last year, BPP University College became the first for-profit provider to be granted university college status in the UK.
It is owned by a US-based company, the Apollo Group, which paid £368m for it in 2009.
BPP is looking to expand in the UK and has confirmed it is holding talks with at least three public universities to run their business operations.
Rising fees
But there are many more private providers that offer non-UK degrees. These include up to 70 overseas universities with UK bases. They are mainly American universities, catering for US nationals on study-abroad programmes.
However, some recruit UK students and, from 2012, their fees will be much more in line with the £9,000 to be charged by most English universities.
Richmond American International University, for example, charges £9,500 for UK undergraduates for degrees validated by both the US system and the Open University.
Another London-based private institution, Regent's College, offers undergraduate, liberal arts degrees to UK students at annual fees of around £13,000.
A small number of UK students at both these universities are already eligible for government loans for tuition fees.
A third business model, and probably the most common, involves private providers working in various forms of partnership with conventional UK universities.
For example, Kaplan Open Learning offers undergraduate and professional degrees, taught online to mostly part-time students, in partnership with Essex University.
Kaplan is a for-profit global education company wholly owned by the Washington Post Company.
But partnership may be too strong a term in some cases. For example, the New College of the Humanities will not initially have its own degree awarding powers.
Instead, its students will take University of London degrees, available under an international study programme to students around the world - many of whom receive teaching from other institutions.
But the University of London has made clear that there is "no formal agreement concerning academic matters" between it and the NCH.
'Grade inflation'
The spread of US-style private higher education has been criticised by the University and College Union (UCU), which says it will drive up fees and bring dependence on unstable capital markets.
Its recent report, Privatising Our Universities, noted that US college tuition has grown at four times the rate of inflation over 25 years.
UCU fears a US model would lead to "rampant grade inflation and other downwards pressures on academic standards".
But others welcome a US-style market. The think-tank Policy Exchange has argued for policy changes to level the playing-field for private operators.
These include making private institutions eligible for government grants, making it easier for them to attain UK degree-awarding powers and permission to use the title "university", and extending eligibility for government loans to more of their students.
In April ministers announced that undergraduates at institutions not funded by the government would be eligible for tuition fee loans of up to £6,000 a year, provided their courses were "designated" by the Department for Business Innovation and Skills (BIS).
The most recent list of "designated" courses covers 83 private institutions and just over 4,000 undergraduates.
The White Paper will be a key test of how far the government is willing to go, in David Willetts's words, to "remove the barriers" that currently stop global providers from operating as universities in the UK.
Ministers believe de-regulation will both drive down costs and put students, as consumers, in the driving seat of university provision.
But private advice to ministers from the Higher Education Funding Council for England (HEFCE), published earlier this year, said there were risks.
HEFCE said private providers "may only focus on those subjects, and those students, that are most profitable".
It added that increased competition might place existing universities at financial risk, "jeopardising the whole of their provision, including that which private providers would see no advantage in offering".
There is much at stake since it is clear that, if the White Paper does open the door to them, there are plenty of operators that regard the market as ripe with opportunity.
Mike Baker is a freelance broadcaster and education expert.