Three more errors found in A-level and GCSE exam papers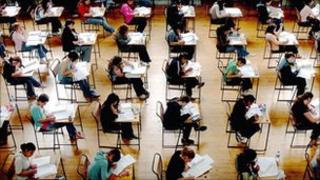 Three more mistakes have been found in GCSE and A-level exam papers taken by thousands of pupils in the summer exam season.
A-level physics and a GCSE Latin paper from the OCR exam board and an AQA maths GCSE foundation paper are the latest to contain errors.
After a series of earlier errors, the Ofqual exams watchdog warned exam boards against any more mistakes.
Education Secretary Michael Gove has been "angered" by the latest errors.
Both the AQA and OCR boards have apologised for the mistakes.
Earlier this month, Ofqual reassured candidates that it was addressing the problem of errors in exam papers - after pupils had been confronted with unanswerable questions.
But three more errors have emerged, including two in papers taken on Tuesday. This means that there have been at least nine mistakes in exams taken by pupils this summer.
Ofqual says it will "now be seeking explanations as to why these errors still occurred".
Printing error
An OCR spokesman said the exam board was "deeply unhappy" about the latest errors and there would be an investigation and jobs could be lost as a result.
The Department for Education said the errors were "completely unacceptable" and that the Education Secretary Michael Gove was angry.
"He has said repeatedly that the exam system is discredited and action must be taken.
"The department has been in close contact with Ofqual and the Secretary of State is speaking to them today to get a briefing on what action they are taking."
The National Union of Students' vice president for further education, Shane Chowen, said: "Despite calls to ensure they avoided further mistakes, exam boards are creating confusion and failing students.
"The responsible exam boards must be compelled to pay for students who have been disadvantaged by these errors to resit."
The Latin GCSE error, in a paper taken by up to 8,000 pupils, contained three errors which represented 14 out of 50 marks.
Examiners will now have to decide how to mark the paper in a way that will treat candidates fairly.
An error in a question in the A-level physics paper, taken on Tuesday morning, meant that pupils were asked to answer a question which included incorrect units of measurement.
A candidate taking the OCR exam paper told the BBC that pupils "were given a few minutes extra in our exam when the mistake was spotted and it caused some disruption".
There was also a printing error in a maths GCSE foundation paper, also taken by pupils on Tuesday morning, set by the AQA exam board.
Some of the papers, given to 31,659 students, had questions from a previous paper accidentally printed in the middle of it, AQA said.
It estimates that the printing error affects only 2,500 of the total.
AQA said it was sorry that the error had caused some students distress.
It added: "From the information we have at this stage, it seems that some of the papers contained questions from the March 2011 paper.
"We understand the problem version of the paper begins and ends with June questions, but has March questions in the middle of it."
AQA said in some of the papers one of the questions had another from a previous paper printed in the middle of it - making it difficult for candidates to follow. It said 80% of the June paper was wrongly made up from questions from the earlier paper.
It added: "We have told schools that students should attempt the paper as it is and we will consider the most appropriate action to protect students' interests, when we have a full understanding of the extent of the problem.
"The batches of papers that we checked as part of our quality assurance process are all fine and we are in the process of investigating with our printers how this problem has arisen.
"As with any problem of this nature, our top priority is to protect the interests of students and we will ensure that no student is disadvantaged by this printing error."
These latest problems follow a series of high-profile mistakes in recent weeks.
These included a multiple choice question where all the answers were incorrect and a question where the information needed to make a calculation was missing from the paper.