Chris Woodhead and universities leader knighted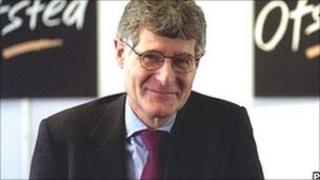 A former Ofsted head, a universities' leader and a super-head are among those working in education rewarded in the Queen's birthday honours.
Outspoken former Ofsted chief inspector Sir Chris Woodhead is knighted, along with Universities UK chief Professor Sir Steve Smith.
Super-head Dr Reena Keeble from a school in Harrow is made a Dame.
And lunchtime supervisor Pat Gilman, who has worked in the same infant school for 31 years, becomes an MBE.
Mrs Mahil Pooni, head teacher of Kenmore Park Infant and Nursery School where Mrs Gilman works, said she showed a lot of warmth to the young children and gave them plenty of time to finish their meals.
"She's such a modest person she's totally embarrassed by the whole thing.
"It just these sort of people that you want to be recognised," she added.
Responding to the news of his knighthood, Sir Steve said he felt "humbled" and "honoured" by the recognition.
He told the BBC News website he felt he was being rewarded for his work on social mobility for the previous Labour prime minister Gordon Brown.
But he would not be drawn on whether his efforts to bring the higher education sector safely through the government's controversial reforms, including allowing universities to treble tuition fees, was also being marked.
He said: "I clearly did steer the ship in extremely difficult times.
"A lot of people may not be pleased to see that someone who was president of Universities UK during this period has got this.
"My job was to get resources into the higher education sector.
'Abrasive style'
"We were going to get 70% funding cuts and my job was to steer a course that's more progressive and I truly believe that it is.
"I didn't do all that work on social mobility to help introduce a system that's going to put people off."
Former Ofsted chief inspector Sir Chris was also knighted.
Sir Chris became a high-profile figure during his time at the inspectorate - a tenure that was, at times, fraught with controversy.
His abrasive style angered many schools and sparked fierce clashes with teaching unions.
On one occasion he famously asserted that there were 15,000 incompetent teachers working in the profession.
Sir Chris resigned in 2000, after six years in the post, going on to advise former Tory leader Michael Howard, and working as a columnist and author.
He is now a Professor of Education at the private Buckingham University, and chairman of Cognita - a company running a group of private schools.
But the former teacher has not stayed out of the limelight, often making his views on the current state of the UK's education known.
'Privileged'
Dame Dr Reena Keeble, head teacher at Cannon Lane Infants School, in Harrow, for the past 18 years, was recognised for her efforts in helping schools turn themselves around.
She said: "I've been working very closely with another local school since January, as well as running my own school. I have also helped well over 20 schools either working with them closely or influencing them."
She also mentors future leaders and says that her reward is working with the children: "The children who have left still come back and see me."
Barbara Rogers, head teacher of St Patrick's Roman Catholic High School and Arts College in Salford, is appointed a CBE for services to local and national education.
She said the award was as much a reflection of her hard work as it was that of the people she worked with.
And she thought she had been recognised for efforts in improving her own school.
She added: "As a school a few years ago we were underperforming in a significant number of areas. Now we are outstanding in every Ofsted category."
But she also felt the recognition had come because of her work, along with others, to help improve the education in 10 to 15 secondary schools in her local area.
She said: "I feel very privileged to do my job. That's why to get this award will be such a surprise to my family and friends."
Hawa Bibi Laher, head teacher of Spring Grove Infants, Junior and Nursery in School Kirklees said she was made an OBE for work in education.
She said she thought she had been recognised for being the first Asian Muslim head teacher in Kirklees.
She said there was a large percentage of Pakistani, black and shared heritage pupils in the school where she has worked since 1997.
She added that she felt she had been a good role model for children of ethnic minority backgrounds and had helped to educate their parents and members of the wider community too.