Exams watchdog: Question errors 'disappointing'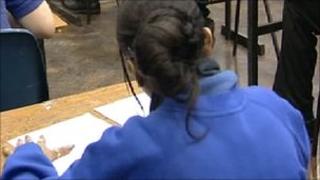 The exams watchdog Ofqual has criticised a series of mistakes on AS-level exam papers and ordered extra checks.
Three exam papers taken by students in England, Wales and Northern Ireland had questions which were incomplete or impossible to answer correctly. Two others are being investigated.
Ofqual said the run of errors was "disappointing and unacceptable".
The exam bodies said they were carrying out extra checks.
The errors affect tens of thousands of students, many of whom will be relying on the results for their university applications.
Several have contacted the BBC News website to complain.
The head of England's exams watchdog Ofqual has written to all the exam boards on behalf of the exam regulators in England, Wales and Northern Ireland.
Protecting students
Ofqual's chief executive Glenys Stacey told the exam bodies to carry out extra checks on GCSE and A-level papers being taken this term and to make sure measures are in place to deal with any errors that occur.
"While the vast majority of question papers taken so far have been free from error, there have been a number of question papers that have included errors," she said.
"We take instances like this very seriously. I am calling on awarding organisations to take steps now to protect students from further disruption and anxiety."
The watchdog says that so far, the number of mistakes reported is similar to other years, but it is stepping in to maintain public confidence.
It is investigating complaints about errors in two other exam papers but has not yet released the details.
The three exam boards involved in the confirmed mistakes say measures are in place which will ensure candidates do not suffer.
The errors on the AS-level papers involved:
A maths question which was impossible to answer because not enough information was given (OCR)
A business studies question which did not give enough information (AQA)
A multiple-choice biology question which gave several possible answers but not the correct one (Edexcel)
The marks at stake varied from just one out of a total of 425 in the biology exam, to the maths question, which was worth 11% of the total marks on the paper.
AS-levels are qualifications in their own right but are also taken by teenagers as the first stage of their A-levels.
Some of those who messaged the BBC News website said they were worried the mistakes could cost them a place at university.
'Thousands let down'
Natalie Edwards, from Stevenage, told the BBC: "The exam was hard enough without having mistakes on questions that are designed for people to be able to pick up the easier marks. I couldn't work out why I wasn't getting any of the answers in the paper, which caused me to get stressed."
Sarah Streiber, from Wales, said she took both the business and maths papers in which errors appeared, and was hoping to go to university before increased tuition fees are introduced in 2012.
"And now I have potentially lost that chance! Thank you very much to the examiners who have let thousands of us down," she said.
The exam bodies have released a statement as a group, saying nearly all of the tens of thousands of examination questions published each year are error-free.
They add that extra checks are being carried out.
Director of the Joint Council for Qualifications Jim Sinclair said: "Awarding bodies are aware that a small number of questions in this year's exam papers have contained errors and understand the distress this may have caused students.
"Students and parents should be assured that no one will be disadvantaged as a result of these mistakes. Examiners marking the papers are aware of the incidents and will make careful adjustments so that all students receive the marks they deserve."
The exams watchdog Ofqual has powers to name exam bodies which make errors, and to direct them to take certain actions to rectify the situation.
Its ultimate sanction is to withdraw recognition from an awarding body - effectively removing its powers to set and mark public exams.