Multiple-choice AS-level exam answers 'all wrong'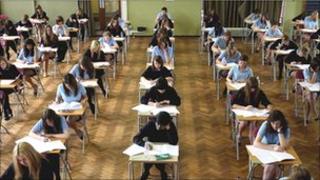 Another incorrect question has appeared in an AS-level exam - the third such mistake pupils have faced this summer.
The multiple-choice biology question, set by Edexcel, offered a selection of wrong answers but not the correct one.
The exam board said the question was worth one mark out of a possible 425 and marking would be adjusted to ensure "no candidate is disadvantaged".
The two other "unanswerable questions" were in maths and business studies AS-level papers set by other exam boards.
Students have complained that even if the questions are discounted, it is difficult to know how much the overall grade could have been affected by the time wasted trying to interpret a wrong question.
One of the pupils who sat the biology exam, on 16 May, has e-mailed the BBC News website to complain the disruption caused by trying to make sense of the error could affect his university application.
"This was a re-take for me, so the time I lost spent on that question could possibly have cost me a university place, right before the fees go up," he wrote.
Edexcel said in a statement: "The marks for this paper will be adjusted during marking and standardising to ensure no candidate is disadvantaged and full details about how this was dealt with will be published in the mark scheme and examiner's report."
In the business-studies error, set by the AQA board, pupils were asked to make a calculation without being given the information necessary to make it possible.
An "unfortunate error" in a maths AS-level paper, set by OCR, meant students were also set a question that was impossible to answer.