Private college challenged over 'university' label
By Sean Coughlan
BBC News education correspondent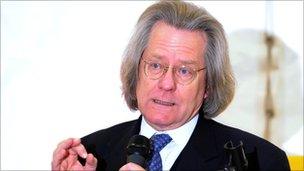 A private college being set up by leading academics does not have the right to use the title "university college," say government officials.
The New College for the Humanities (NCH) was launched at the weekend as an "independent university college", with plans to charge £18,000 per year.
But it does not have university college status, the Department for Business, Innovation and Skills (Bis) says.
The college says it is going to apply to become a university college.
"New College for the Humanities is not currently a university college. The college has not yet applied to use this title," said a Bis spokesman.
But the college said it was able to describe itself as a university college.
"We have been advised that we may legally describe ourselves as a new independent university college, and will be working with the department to ensure that we comply with their particular guidelines on this before next autumn," said a statement from the college.
NCH plans to create a private higher-education institution in London, inviting applications for courses beginning in autumn 2012.
The college says it will recruit high-calibre students who will receive individual tuition from a group of leading academics including AC Grayling and Richard Dawkins.
They will also pay much higher prices - with fees to be set at £18,000, twice the upper limit for public universities in England. At least a fifth of students will receive financial support, says the college.
The college will not have its own degree-awarding powers, and students will take University of London degrees - under the university's international programme.
There are already 50,000 students around the world following these degree courses drawn from the curricula of 12 of the University of London's colleges.
"For most undergraduate awards this costs less than £1,500 per annum, on a full-time basis," says a statement from the University of London.
The University of London also issued a clarification about the links with NCH.
"To avoid any confusion, it should be made clear that NCH is not, and will not be, a part of the University of London."
And the university said there was no agreement for NCH students to have access to the University of London's Senate House library - other than the same access available to other external students.
There was also a statement from Birkbeck, University of London, saying: "Birkbeck has no links with New College and no agreement to provide New College with access to any of its facilities."
NCH says it will be applying for accreditation with the university standards watchdog, Quality Assurance Agency
If it wants to recruit overseas students, who need a student visa, the college will also have to become a registered sponsor.
Its first faculty member, Professor Grayling, says it will defend subjects threatened by budget cuts in the state sector.
"Our priorities at the college will be excellent teaching quality, excellent ratios of teachers to students, and a strongly supportive and responsive learning environment," he said.
"Our students will be challenged to develop as skilled, informed and reflective thinkers, and will receive an education to match that aspiration."
Related Internet Links
The BBC is not responsible for the content of external sites.