AS-level maths error: students set impossible question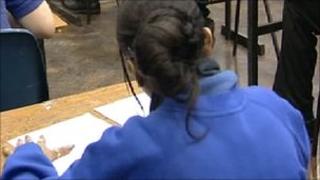 An "unfortunate error" meant maths students were set a question that was impossible to answer in an AS-level exam.
Just under 6,800 teenagers took the paper - set by the OCR exam body - last Thursday.
OCR has apologised, saying it will make sure candidates are not disadvantaged by the mistake.
But some students writing on social networking sites have been calling for the test to be re-run.
The error was in an exam paper taken in 335 schools and other exam centres in England, Wales and Northern Ireland.
Stress
The question carried eight marks out of 72 being awarded for the paper.
Candidate Thomas Fay, who contacted the BBC News website, said he had been distressed to find a question that appeared "impossible".
"This threw me in the exam and many people found this to cause much added stress in the exam," he added.
"Many people are worried that the mistake made by the examining board will severely affect the mark and grade they achieve in the paper. For many this was a final exam and will most likely influence final grades and university admission."
Dozens of other students have messaged the BBC News website to voice their anger and fears about their grades.
Aron De Vos, 17, from St Albans, said: "I spent a good 15 minutes trying to answer that question. I was getting very frustrated about why I couldn't get the answer.
"I want to retake that exam. I can't believe how much time was wasted on a question where we were only able to get zero marks."
OCR has said it deeply regrets the "unfortunate error" and says it has a range of procedures in place to ensure candidates are not disadvantaged.
Review
A spokeswoman said: "We very much regret that there was a mistake... and that our quality assurance procedures failed to identify this error.
"Because we have been alerted to this so early, we are able to take this error into account when marking the paper. We will also take it into account when setting the grade boundaries. We have sent a letter to all schools and colleges explaining in more detail what we shall do.
"We do apologise again that this has happened."
The exam body says it is not going to discount the question from the marking, because that might disadvantage candidates who spent a lot of time trying to answer it.
Students will be awarded points for their attempts to work out the question and measures are also in place which are designed to recognise that other candidates may have discovered the error quickly, OCR says.
OCR released full details of the error - on paper "Decision Mathematics 1" - as follows:
The question as printed asked candidates to verify the shortest route, for two given conditions, giving values of 32.4 + 2x km and 34.2 + x km. These values should have been 34.3 + 2x km and 36.1 + x km respectively. The error was not to have included twice the journey between A and B (0.9 km) and the journey between F and G (1.0 km) in the values given.
BBC News website readers have been sending in their comments and experiences, a selection of which can be read below:
I did the D1 exam and I remember doing this thinking, "there goes eight marks". The exam was hard enough without an 'impossible' question making it even harder. And, it did stress me and many of my classmates out, even if it was just one question. We came out trying to be as optimistic with our expected results. Sultan Ijaz, Carshalton, Surrey
My son is in his last year of sixth form and has taken this exam. He needs an A in it to get his place at Nottingham for a Pure Maths degree. The question severeley affected the whole of his exam, not only did he spend 40 minutes trying to answer that one question, but he also subsequently ran out of time leaving questions unanswered. He cannot retake as he needs his results this summer or faces an extra £21,000 in tuition fees. This could definitley cost my son his uni place. Victoria Malone, Caddington, Bedfordshire
I took this paper last Thursday. This particular question was worth eight marks which is over 10% of the paper. I just thought it was very hard rather than being impossible. Given the choice I would prefer to retake the paper. John Wheal, Colchester
Having spent a long time on this question I resorted to crossing out all of my working out. The amount of time I spent meant I wasn't able to answer the rest of the exam paper to the best of my ability. The only logical option I could see for OCR is to put out another exam paper quickly or my application to university will be extremely hindered due to this being 33% of my A-Level grade. It's ridiculous, how can the highest marked question on the paper not be double/triple checked? Tom, Scunthorpe
I'm a student who sat this exam and I spent ages on this very question, continually getting the right answer (but not the one they stated). I'm annoyed and yet grimly satisfied to be proven right, but that won't get back the time I wasted trying it again and again, which certainly compromised my efforts on the rest of the paper. Curtis, Caldicot
I took the exam and it was horrible. I needed to get a high mark to meet my Cambridge offer but that question put me off so badly that I'm not sure if I have made it. You expect examining boards not to make such mistakes, on which your future relies upon, but on this occasion they have failed. Anand, Ashby
It was a terrible exam, and I regretfully, burst into tears after the exam in front of my maths teacher. After learning that the exam board had made such a careless mistake, a mistake that would affect the lives of thousands of students, you can understand our frustration, anger and disappointment. I feel it is within the best interests of the students that we are able to sit a new Decision Mathematics 1 exam to recitfy the foolish mistakes of OCR. Kalpita, York
This is a disgrace. My daughter realised there was a mistake and moved on, so didn't put a lot of working into the question. I honestly don't believe that a statistical approach to marking this question does anything than assure that the results distribution matches an average of previous results. It does nothing to reassure an individual they weren't disadvantaged over another student sitting a different board's exam or module who also needs the same grade to get to university. Ian McGregor, Horsham
Can't see what the fuss is all about. The question is worth eight points from a potential 72. Don't re-run the test, ignore the question and mark the paper out of 64. It's basic maths, not rocket science, although some people do like making life needlessly difficult. Dave, Bridgend