Councils face legal action over Sure Start changes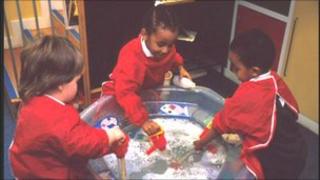 Two councils could face legal action at the High Court over planned changes to Sure Start children's centres.
Hampshire County Council and the London Borough of Hammersmith and Fulham have been been served with an application for judicial review by two parents.
They say the councils did not hold a full consultation over the plans, which will see some centres merged for administrative purposes.
Both councils say they will be contesting the application "robustly".
In Hampshire, the council is proposing to streamline the management of its 81 children's centres to form 53 "management hubs".
Services to children and families would continue to be offered from the existing 81 centres.
The council says this will save costs on bureaucracy at a time of budget constraints.
Merging services
In Hammersmith and Fulham, the council plans to combine early-years and youth services into three "locality teams" which will provide a ranges of services, including for early years.
The council admits some centres will have reduced budgets, but says it is looking for other groups, such as businesses and charities, to work with these centres.
However, the two parents seeking judicial reviews say the consultation processes were flawed, because the councils decided to cut Sure Start budgets before the end of the consultation period.
A spokesman for Leigh Day and Co, the solicitors representing the parents, said: "Although the council [Hampshire] consulted on their proposals until 15 April, in fact the council appears to have decided to proceed with both proposals before the consultation finished.
"On 24 February 2011, the council decided to cut £6m from the Sure Start Centre budget and to transfer the running of local authority managed centres to other providers."
The solicitors said similarly, in Hammersmith and Fulham, the council announced a £1m reduction in funding for children's centres on 23 February, five days before the end of the consultation period.
The spokesman added: "Unfortunately, neither Hampshire nor Hammersmith and Fulham complied with their legal duties and we have been forced to bring these actions on behalf of our clients, despite our attempts to avoid litigation."
A spokeswoman for Hammersmith and Fulham Council said: "We are vigorously contesting all points raised but it will be some time before a decision is made as to whether there is a case for us to answer."
A spokeswoman for Hampshire County Council said: "We will be resisting this and we remain confident as to our position."