Poor teachers could be sacked 'within a term'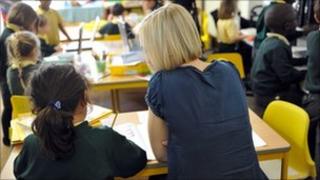 Poor teachers could be ousted from England's schools within a term, under government plans to make it easier for heads to get rid of under-performing staff.
Currently it can take more than a year to remove struggling teachers, because of lengthy bureaucratic processes.
Education Secretary Michael Gove said schools had been "trapped in complex red tape" for far too long.
But a teachers' union labelled the plans "unfair, unjust and unworkable".
"The proposals turn performance management on its head. Instead of helping teachers become even better at teaching it will give heads an easy way to get rid of teachers that they dislike," said Mary Bousted, leader of the ATL teachers' union.
But the Department for Education argues that high quality teachers are key to pupils' performance.
It cites US research which suggests pupils taught for three consecutive years by a top-performing teacher can make more progress than those taught for the same period by a low-performing teacher.
Currently, the system for managing teachers' performance is set out in the Education (School Teachers Performance Management) Regulations 2006.
The DfE argues these regulations are complex and overlap with procedures looking at how good they are in the classroom.
It has therefore published plans to radically reduce these rules to make it easier for schools to deal effectively with what it says are a "small number of poorly performing teachers".
It also wants to make it easier for schools to manage teachers in the way they see fit.
Mr Gove said England's schools had a great generation of teachers.
He added: "Heads and teachers also want a simpler and faster system to deal with teachers who are struggling.
"For far too long schools have been trapped in complex red tape. We must deal with this problem in order to protect the interests of children who suffer when struggling teachers are neither helped nor removed.
"Schools must be given the responsibility to deal with this fairly and quickly."
'Without delay'
The proposals will go out to a 12-week consultation and are likely to be in place by September 2011.
Brian Lightman, Association of School and College Leaders, said: "In the relatively small number of cases where performance is unsatisfactory in spite of the formal and informal support that has been provided, it is essential for the benefit of the students that capability procedures can be implemented swiftly without the current constraints over time scales."
National Association of Head Teachers general secretary Russell Hobby said heads needed the ability to move on the relatively few weak teachers in schools.
"They want to be able to do this fairly and without delay, to the benefit of pupils and, ultimately, staff. Both bureaucracy and delays are unfair to all involved."
He added that managing performance was an essential part of development for school staff as it ensured training needs and areas of attention were identified.
"If, despite that support, the level of performance is still not satisfactory, then it is essential that this is dealt with quickly and fairly," he added.
The National Union of Teachers general secretary Christine Blower said: "Procedures to deal with any concerns about performance must be fair and not offer a bully's charter.
"Many teachers already feel overburdened and under-supported in school.
"These proposals are about removing protections, not about cutting down on unnecessary red tape."