Healthy eating 'improves school inspection results'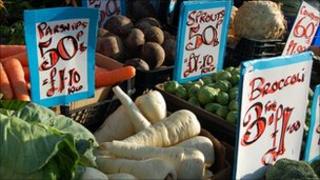 Primary schools in England involved in a healthy-eating project have improved their inspection results and pupils' behaviour, researchers say.
The University of West England (UWE) study analysed 48 of the primaries in the Food For Life Partnership (FFLP).
More than a third (36.2%) were judged outstanding by Ofsted, compared with 17.3% before they joined the FFLP.
Funded by a £16.9m lottery grant, the project encourages pupils to grow, cook and eat good food.
The more than 3,600 participating primary and secondary schools work towards bronze, silver and gold awards, based on their approach to food education, quality, culture and community engagement.
The UWE study found the proportion of children eating five portions of fruit and vegetables a day had risen from 16% to 21% after their school joined the programme.
And 45% of parents surveyed told researchers their family was now eating more vegetables.
The researchers also found pupils from less privileged homes were benefiting.
During a two-year period, free school meal take-up rose by 13 percentage points in FFLP schools.
'Holistic approach'
Mat Jones, senior lecturer in health and social policy at UWE, said the project connected food issues across the whole school and out into the community.
"It brings together students, teachers, cooks and parents in a shared mission. This holistic approach appears to make a lot of sense for children who are encouraged to take their learning from classroom to dining hall and into their homes.
"Evidence of positive outcomes - for health, environmental awareness, wider learning and parental involvement - highlights the potential of joined-up action in schools."
FFLP director Libby Grundy said: "The UK has the highest rate of childhood obesity in Europe, with almost a quarter of adults and about one in ten children classed as obese, and a further 20-25% of children overweight.
"The UWE evidence shows that our programme has made a positive difference to improving diet and this in turn is having a knock-on effect on behaviour and attainment.
"Yet, just as the programme looks as if it has reached the tipping point in terms of making a cultural shift, cuts to local authority school meal budgets - and an uncertain funding future for the FFLP programme itself - could undo all the good work."
The FFLP is made up of four charities - the Soil Association, Health Education Trust, Garden Organic and Focus on Food Campaign.