Could free schools share sites with existing schools?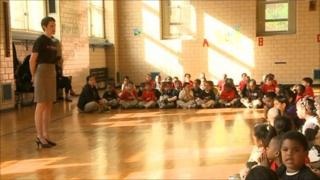 Free schools, started by groups of parents or teachers, could be set up in existing schools with surplus places.
It's an idea that's been adopted in the United States - and the BBC has learnt that at least one group setting up a free school in England is looking at this option.
Free schools have been one of the coalition government's flagship policies - small independent schools that are publicly funded - but could the idea of a "school within a school" work?
The Dream School in New York is a living example.
It's a Charter school - part of the movement cited as an inspiration for free schools - and shares a block in East Harlem with an existing state school, Public School 38.
The two schools have to negotiate over use of the cafeteria, the gym, the auditorium and the playground.
'Infringing'
On one floor where they share the same corridor, Dream School has painted its walls bright orange to mark the demarcation between its own space and the brown state school walls.
Its principal, Eve Colavito, says sharing the space is "challenging".
"Everyone's clamouring for more space," she says. "Everyone wants to use the gym or the cafeteria or the outside space at the same time."
One of the big challenges is that the Dream School set up in the block in 2008, whereas State School 38 had been there for years, she says, which "made it feel to them that we were infringing on their space".
Dream School was only permitted to move into the building because there was under-enrolment in Public School 38.
But Dream School is growing, with two new classes being added annually - encroaching further on the territory of the older school.
Ms Colavito says that last year someone "drummed up a bit of animosity", culminating in a protest by some state school pupils.
Co-existence is clearly not easy, and Dream School is planning to move out in the future.
Raising attainment
The idea of co-siting schools is at very early stages in England.
Partnerships for Schools, a government agency, is looking at identifying schools with surplus places which could be used - and at least one proposal in the pipeline is to co-site a free school within an existing one.
But the idea is not likely to be popular with schools that have surplus places, such as Mountfitchet Maths and Computing College in Essex.
It used to be in special measures because of low attainment by the pupils - but is now improving, under a new head.
Because of its past, it currently only has 419 pupils, well below its capacity of 600.
However, head teacher Catherine Anderson does not think a free school could work on her premises, as the surplus places are within existing classes.
"If you've got a larger building where you've got larger blocks that you can allocate to a free school, and it's a completely separate entity, then possibly it could work," she says.
And in relation to solving her own school's problems, she says: "If you look at a school like ours which had been in special measures, which needs to raise its attainment and to raise the aspiration of the students, it's that that will raise student numbers."
'Idealistic'
Free schools were one of the government's big ideas to shake up the system.
The Conservatives had talked about 220,000 free school places in ten years.
But just four have so far entered into a funding agreement with the Secretary of State - the final bureaucratic hurdle - and only 10-20 free schools are expected to open in September.
With the budget for new buildings and refurbishment relatively small at £50 million, the emphasis has been on setting them up in old buildings.
But finding the right site and getting planning permission has proved difficult for some.
Even supporters of free schools acknowledge that the take-up has been disappointing - others question whether they could really bring much improvement to the education system overall.
Professor Alan Smithers, from the University of Buckingham, says that, because of the energy and enthusiasm required to set them up, free schools are likely to be "very good" and to "become magnets for committed pupils and parents".
But this means neighbouring schools are likely to lose their more able pupils, he says.
"Weak schools are likely to become even weaker. You may say that's a good thing. It's not such good news if your child happens to be in that school for most of his or her school career," he says.
But Education Secretary Michael Gove is bullish. He argues that free schools will drive up standards, and that additional money given to a struggling school is not likely to be used effectively.
"Sometimes you need to say 'thank you and goodnight'," he says.
And he thinks co-siting could be an effective use of the existing school stock.
"One of the things we want to do with the free schools programme is to make sure that idealistic people - particularly teachers - who want to improve state education have the opportunity to do so.
"There are some opportunities I suspect in the future where we have classrooms that aren't being used, where you could have a primary next to a secondary, where we could make sure all parents have a wider choice of schools for their children," he says.