Teachers mount legal battle over pensions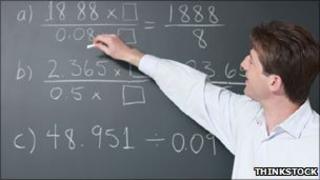 A teachers' union is mounting a High Court challenge to government changes to their pension scheme.
The Nasuwt union is seeking a judicial review over the switch from the higher RPI to the lower CPI index of inflation.
Chancellor George Osborne announced the change for public sector pensions in his emergency budget last June, saving £11bn a year by 2014-15.
The government said it stood by the move.
The CPI method of calculating inflation - which does not include housing costs - is usually lower than the RPI definition.
The Nasuwt say the change could, for some teachers, mean a loss of over £50,000 in the value of their pension over a 20-year period. It lodged papers with the High Court earlier this month.
General secretary Chris Keates said the change effectively broke the "contract" between teachers and the government because staff would have given consideration to the level of pension they were to get when they took decisions about if and when to retire.
'Good case'
She said: "It's been such a devastating change and it's been imposed - it's not up for negotiation with the government. They took a unilateral decision to do this.
"We took legal advice and on the basis of what our lawyers say, we think there is a good case to be made. If we win, it will have a massive impact for teachers."
Nasuwt has joined with the Fire Brigades Union, the Prison Officers Association, the PCS civil servants' union and Unite to mount the challenge.
As part of their legal case, the Nasuwt has drawn up a range of case studies for teachers leaving the profession at different stages and mapping out what the changes mean for those individuals.
If the case goes in favour of the unions, then these examples would set precedents for teachers and other workers in similar positions.
'Preferred measure'
A spokesman for the Department for Work and Pensions said: "We are currently considering the claims but stand by our policy to move to the CPI for the up-rating of pensions and benefits.
"The CPI is an internationally recognised measure of inflation and is the Bank of England's preferred measure."
The case comes as the Nasuwt publishes the results of a survey of 35,000 members suggesting nine out of 10 would support industrial action over future planned changes to their pensions.
However, the Nasuwt has committed itself to the TUC-led negotiations with the government before balloting for action.
But Ms Keates added: "Should the coalition government either fail to take seriously the concerns of teachers or fail to use the negotiations with the TUC genuinely and seriously to seek an agreed outcome, then the overwhelming support for industrial action among Nasuwt members will be translated into reality with inevitable widespread disruption."
A number of other teaching unions have said they will ballot on strike action over pension changes.