LSE to consider £8,000 fees after academics' vote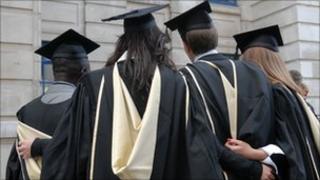 The London School of Economics is to consider becoming the first elite university to charge less than £9,000 fees, after a vote by academics.
LSE's Academic Board voted narrowly in favour of charging £8,000, which means it will now be put as an option to the university's decision-making Council.
The body is due to make its final decision on 25 May.
All the English research-intensive universities in the Russell and 1994 Groups have so far opted for £9,000.
The LSE students' union had mounted a campaign for lower fees. Its president, Charlotte Gerada, said she was "grateful and proud" that the academics had backed the lower fee.
Close vote
The university said they had voted 68 to 67 against charging £9,000, and 65 to 64 in favour of charging £8,000.
But this was not being treated as a recommendation as the vote was so narrow, the university said, and both £8,000 and £9,000 would be presented as options to the LSE Council.
The University said the Council would "take into account the full range of views expressed at Academic Board" in its decision.
Ms Gerada said it would now be "outright wrong" to opt for £9,000 as "a fair, democratic vote was taken, and should be upheld".
It remains unclear which way the Council will vote.
The students' union says it is "extremely rare" for the Council to contradict the Academic Board.
Universities wanting to charge more than £6,000 fees have to submit an "access agreement" to the Office of Fair Access (OFFA) detailing the measures they will take and funds they will commit to recruiting students from disadvantaged backgrounds.
The LSE says it had submitted a proposed agreement by the 19 April deadline, but had done so before making a final decision on the fee level.
The fees increase will come into force in September 2012, with universities permitted to charge between £6,000 and £9,000 per year, an increase from just over £3,000 at present.
Fees will be paid up-front in loans by the government, and then repaid after the student graduates and begins earning more than £21,000.
Almost three quarters of universities in England, which have declared their tuition fee plans, want to charge £9,000 a year for some or all courses.