State education is in crisis says historian Starkey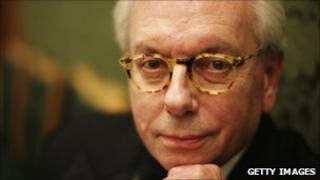 The historian David Starkey has said England's education system is in crisis and the money spent on it might as well have been "burned".
Mr Starkey said too many youngsters were leaving school unqualified and unprepared for the world of work.
The author, who controversially called a pupil fat in a reality TV show, said good teachers and tougher discipline would be better than extra resources.
He was speaking at a conference run by independent school Brighton College.
Mr Starkey failed to control his class when he worked as a history teacher on Jamie Oliver's Channel 4 programme Jamie's Dream School.
The show brought together figures such as Alastair Campbell, Rolf Harris and Daley Thompson to teach a class of 20 teenagers from different backgrounds.
Mr Starkey said the show had showed the funding of their education had been a waste.
"It's arguably our greatest national crisis, that half of the population of state schools emerges wholly unqualified and wholly unable to work," he said
"If you think of what it costs to educate a child in the state system, one hundred or two hundred thousand [pounds], it must be of that order in the period of compulsory education.
"You might as well have taken that money and burned it for all the impact that it had made on them.
"Multiply that by thousand after thousand after thousand, tens of thousands, millions, and that's what you're looking at."
Social mobility
The historian also predicted the living standards of the middle classes would drop.
"We constantly talk about the importance of social mobility. This is one of the great things about the current government.
"But, ladies and gentlemen, true social mobility involves downward mobility as well as upward mobility.
"And we are going to see increasingly, I suspect, downward middle-class mobility - children who will not be able to maintain the living standards that they have been brought up to."