Parents admit to 'using TV as babysitter'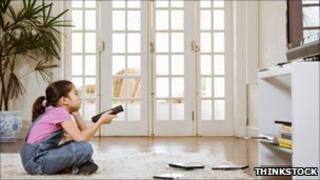 A quarter of parents of young children in the UK admit using the television as a babysitter, research suggests.
Some 70% of the 1,000 mothers and fathers polled as part of the national year of communication say they do not feel guilty about allowing their children to watch TV.
And 42% think it is a great way for children to learn, the poll suggests.
Experts say parents need to watch TV with their children if it is to be a good learning opportunity.
In this way they can spark off conversation and introduce new words to their children, they say.
It also means children should watch programmes appropriate to their age and specifically designed for them.
'Sitting in silence'
But the survey suggests that more than half of parents, with children aged two to six-years-old, allow them to watch programmes such as EastEnders, The X Factor and Coronation Street.
It also suggests that nearly eight out of 10 children watch TV by themselves for two hours every day.
And when parents do view programmes with their children, only 15% use them to start a conversation. A fifth say they sit in silence with their children.
The research has been published as part of this year's national year of communication known as the Hello Campaign.
Speech and language therapist, and spokeswoman for the campaign, Wendy Lee, said the survey highlighted that parents were not suffering from "guilt overload".
'Fantastic opportunity'
But she said there were areas where parents would benefit from more information and advice.
"TV can be used as a fantastic opportunity to bring children's favourite characters and shows to life beyond the box as well.
"Chatting about characters, making up stories and even acting out adventures can help parents develop their child's language and communication," she said.
The campaign is publishing a 10-point plan to encourage parents to use TV as an opportunity to talk with their pre-school children. More information on this and the campaign can be found on the Hello Campaign website.
The parents were polled online by agency One Poll in April.