Private universities in 'equal scrutiny' call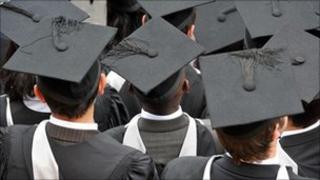 Private universities in England, expected to grow in a shake-up of higher education, should be subject to the same regulations as public universities, a think tank has said.
The Higher Education Policy Institute (HEPI) report said the quality of all types of institution should be tested to "robust" common standards.
The regulatory system needs to be more "coherent", said the report.
A government spokeswoman said students needed "wider choice and good value".
HEPI director Bahram Bekhradnia said of the institute's report: "Private universities are here to stay - and there are going to be more of them."
International trends and a government sympathetic to more private institutions meant that this sector was going to grow.
As such, he said there needed to be legislation setting out a single, over-arching system of requirements for both private and public universities.
Level playing field
Anthony McClaran, head of the Quality Assurance Agency - the UK's higher education standards watchdog - welcomed the report.
He said many steps had already been taken towards a common framework of regulation.
The government is preparing a White Paper on reforming higher education, which is expected to make it easier for private and overseas universities to operate in the UK.
It has already been announced that students at private universities will have access to student loans up to £6,000 per year.
But the report from HEPI, written by Robin Middlehurst and John Fielden, says an increase in new providers needed to be regulated by an integrated system of standards.
The study highlights how there has already been an expansion in specialist private higher education institutions, of which there are now about 670 in total.
Five of these institutions have their own degree-awarding powers.
But the report argues that regulations about providing information and quality assurance should not make distinctions between public and private institutions.
Instead it suggests that scrutiny should be proportionate to risk - with well-established universities requiring fewer checks.
As part of the White Paper, ministers are believed to be considering whether the standards watchdog has sufficient "teeth" to protect the consumer interests of students.
With fees in England set to rise to up to £9,000 per year, there will be much greater attention to the quality of information available to students about the courses on offer.
Open information
QAA chief executive, Mr McClaran, said that he was "very sympathetic" to the idea that a more diverse university system should be regulated by a common framework.
Degree-awarding powers for universities are already subject to the same scrutiny for public and private universities - but there are differences for subsequent audits.
The QAA is in the process of introducing a more user-friendly way of grading institutions and presenting information from its audits in a more accessible way to students.
Mr McClaran says that the views of students will also be more significant in assessing standards.
The watchdog also wants to increase the public visibility of its inspection findings - including when it gives a "limited confidence" rating or launches an investigation in response to complaints.
Carl Lygo, chief executive of the private BPP University College, backed calls for a single framework with "robust guidelines" which would provide a "level playing field".
"We welcome a strong, independent regulatory framework that will help to maintain consistent high standards for all students - regardless of the organisation," he said.
But Sally Hunt, leader of the UCU lecturers' union, warned: "We urgently need tougher regulation of for-profit companies if we are to protect quality and standards in our higher education system."
A spokeswoman from the Department for Business, Innovation and Skills said: "The future regulatory regime for all providers of higher education is a key issue in the forthcoming White Paper, which will lead to a Higher Education Bill in 2012.
"The government wants to encourage a diverse and dynamic higher education sector with a range of providers offering high quality and innovative teaching, wider choice and good value for students."