Higher tuition fees 'blow to local economies'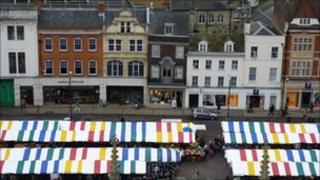 The economies of university towns and cities could be badly hit by the move to raise student tuition fees as high as £9,000 from 2012, research finds.
A report by the Centre for Cities says student spending accounts for 10% of the economic activity of some cities.
It says the employment generated by universities is also a major asset to the economies of UK towns and cities.
The study urges city businesses to plan ahead for a potential fall in student numbers in response to higher fees.
The research concludes that Cambridge, Plymouth, Coventry, Oxford, Dundee, Swansea, Hull, Brighton, Stoke and Nottingham are the 10 cities with the highest proportion of undergraduate spending compared to total output.
The study says: "The main impact of a university on its city economy is through the attraction of students as consumers and through their levels of employment in a city economy.
"[A university] has an important role to play as an 'anchor institution', attracting students from both the UK and abroad and they are significant employers.
"This has positive implications for consumer spending."
'Challenging times'
Centre for Cities analyst Paul Swinney said: "Universities, and the cities they are based in, face some challenging times ahead.
"In this age of austerity, universities have needed to revise their fee structures, but it is important that cities understand that decisions made by universities about fees, students and staff will have implications for local economies.
"It is likely that places like Oxford and Cambridge will fare better than others - demand for places is unlikely to slip, so the large contribution that students make to the economies of these cities through their spending habits is unlikely to change significantly.
"But other universities may find it more difficult to attract students. And this is likely to impact not just on the university itself but on the wider city economy."
The Centre for Cities is an independent research and policy institute which aims to help cities improve their economic performance.
Responding to the report, a spokesman for the Department for Business, Innovation and Skills said: "No-one will be asked to pay upfront costs, there will be more financial support for poorer students and funding for universities will follow individual study choices leading to an increased focus on graduate outcomes.
"The student and university finance reforms are fairer than the present system and affordable for the nation," the spokesman added.