NUT teachers' union steps up academies battle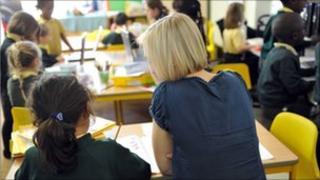 Teachers are to step up the pressure on the government over its plans to rapidly expand the number of academies in England over the next few years.
Ministers want the independently-run, but state-funded schools to become the "norm" by the end of this Parliament.
They say the increased freedoms will enable head teachers to raise standards.
But the National Union of Teachers says the rapid growth in academies is part of a drive towards privatisation.
The NUT annual conference agreed on a concerted campaign, including strike action and legal challenges, over what delegates say is a "sham" consultation process.
Education Secretary Michael Gove has said he wants all schools to become academies, which operate outside of local authority control.
This month the Department for Education said there are now 600 academies in England - three times the number of academies when the coalition government came to power last May.
Academies can set their own curriculum, hours, and staff pay and conditions, and also gain control of a share of funding previously held back for borough-wide services.
Mr Gove argues that this flexibility enables head teachers to improve performance, and says any new schools, whether set up by community groups as free schools or by local authorities, should ideally be academies.
But he has stopped short of allowing either type of school to make a profit.
'National dispute'
Delegates at the NUT conference in Harrogate said the rapid expansion of the programme warranted a national response from the union.
David Plews, from Lewisham, said some teachers are scared to fight against moves by their schools to convert to academy status.
He said: "We need a different strategy - we need to make this a national dispute."
Alasdair Smith from Islington argued that legal challenges could be mounted on the basis of insufficient consultation.
He said: "The idea of the consultation is an absolute sham - you can make a decision to become an academy and then consult."
Under the new rules on academy conversion, maintained schools only need consult with those whom they consider appropriate before converting.
And this consultation may take place after the Secretary of State has approved their outline bid for academy status.
A Department for Education spokesman said: " The consultation may take place before or after an academy order or an application for an academy order has been made in respect of the school, but it needs to take place before the funding agreement is signed - ie before the school legally becomes an academy."
The High Court overturned Mr Gove's decision to scrap school rebuilding projects in a number of local authority areas on the basis of insufficient consultation.
And a group of mothers are mounting a legal challenge over their local authority's decision to close a number of children's centres before issuing a consultation.
'Hovering like vultures'
Ivan Hickman, of Stoke, said that in some cases, the expected financial benefits of becoming an academy failed to materialise.
He said: "Funding is not as much as you were expecting and the lie of become an academy to get more money to protect our school does not add up - in practice it does not happen."
Delegates also said they feared ministers wanted eventually to open up state education to profit, by expanding the role of free schools and academies.
Lambeth teacher Bridget Chapman said "edubusinesses are hovering like vultures to feed on the carcasses" of state schools.
And Geoffrey Gray of Leicestershire said the Conservatives had been planning their free school and academies policies for 13 years.
"Their aim is to create a fully-fledged market place by making academies the norm by the end of the Parliament."
He added that because the academies expansion was growing school by school, trade unionists had been left fighting a "rearguard guerrilla campaign" when what was needed was a national plan of action.
NUT general secretary Christine Blower said Mr Gove has already said that he has no objection in principle to schools making a profit.
"The government cannot justify the transfer of publicly-funded assets in the form of school buildings and land into the hands of unaccountable sponsors or academy trusts.
"It is already becoming clear that the majority of free schools will be run by established academy chain sponsors or private companies."
A spokeman for the Department for Education said: "We trust teachers and headteachers to run their own schools. This is a genuinely permissive policy - we want schools to decide what's best for them, not politicians or bureaucrats.
"Many school leaders have already shown a keen interest in gaining academy freedoms. They want to use those powers to increase standards for all children and close the gap between the richest and the poorest."