Education charities' concern over school entry changes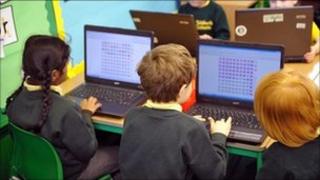 Proposed changes to school admissions procedures could make the system less fair, education charities have said.
They agree change is needed but fear safeguards that ensure fairness, such as the powers of adjudicators and local scrutiny forums, will be eroded.
The Advisory Centre for Education said the changes could lead to a "watered down code".
The government said the simplified code would be fair while making admissions easier for schools and parents.
Complex criteria
At present, a detailed code prevents schools cherry-picking the brightest or wealthiest pupils.
About one in five children applying to state secondary schools in England do not get their first choice.
However, complex admission criteria can be used such as a child's religion, how far they live from a school or if they have siblings already attending.
Ministers want to simplify what they describe as confusing procedures, and a draft paper is due to be published.
Schools adjudicators, who ensure admission policies are legal, have found schools breaking the code in around half the cases looked at, and can force schools to alter their admissions policies.
Charities fear that could change under the government's plans.
Sam Murray of the Advisory Centre for Education is concerned simplifying the code might water it down, meaning recent changes that have made the system fairer and more transparent might be lost.
"In effect the simplified code could be at the expense of fairness," she said.
'Parent anxiety'
Curbing the adjudicators' powers and reducing local scrutiny are among the changes expected, but some groups want the process simplified even further.
Professor Sheila Lawlor, of the Politeia think tank, said: "It's a step in the right direction.
"I welcome driving the process down to school and parents - that is where it needs to be, but it needs to go further.
"We need to take local authorities out of the admission procedures so parents can apply directly to the school, so they make that decision in concert with the teachers of that school - that's what matters."
The government said its reforms would bring higher standards and better choice.
A spokesman said: "We want to improve discipline, give greater freedom to heads, attract the best graduates to teaching, expand academies, set up new schools and we will not hesitate to step in to turn around weak schools.
"Only when every school is considered a good school will we start to remove the anxiety parents suffer when choosing a school for their child."