Friends, family and birthdays 'make children happiest'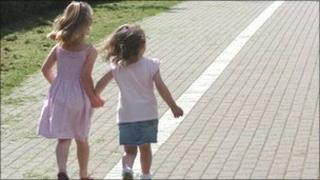 Friends, family and birthdays top the list of things that UK children say make them happy, a survey suggests.
Computer games came in above chocolate, while social networking websites languished below both, in the survey of 1,000 children aged up to 16.
Children rated their happiness, on average, at 8.5 out of 10, compared to only 6.5 for adults.
The survey was conducted by Opinion Matters, for the Edward Monkton and Purple Ronnie brands.
Boys and girls rated their happiness at fairly similar levels, although there was variation across the UK, with most children in Cardiff, 42.9%, and Leeds, 42.2%, rating their happiness at 10 out of 10.
But such levels of happiness were only experienced by 7.7% of children in Belfast, 16.7% in Sheffield and 17.9% in Glasgow.
Gender differences emerged on some issues when children were asked what makes them happy.
Girls were more enthusiastic than boys about "doing something nice for another person" (69.2% of girls said it made them happy, compared to 58% of boys), "reading a book" (66.4% compared to 53.6%), eating chocolate (58.6% to 49.8%) and "playing/texting on your phone" (32.2% to 21.7%).
But boys were made happier than girls by playing computer games (71.9% to 58.3%) and playing with toys or gadgets (67.9% to 57%).
When asked what they thought made their parents happy, "spending time with their children" came out highest, followed by "having a holiday" (50.9%) and spending time with each other (45.2%).
Only 11.7% of children said "having lots of money" made their parents happy.
The survey comes as some UK households are being asked, in a government survey measuring happiness, how satisfied they are with their lives.
The Office for National Statistics has added the questions to the existing nationwide Integrated Household Survey, which is currently taking place.