Britain's pupils are bad losers, survey suggests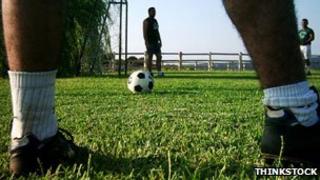 The UK's schoolchildren find it difficult to lose graciously in sport, and their parents can be just as bad, a survey has suggested.
Two-thirds of parents of eight to 16-year-olds said their children reacted badly when they lost, the poll found.
A further two-thirds of respondents said parents behaved badly when watching children's matches.
Some 1,008 parents and 1,007 children aged eight to 16 were questioned for the survey by Opinion Matters.
Parents who were questioned described other parents as mocking the opposition and even using foul language with the referee or umpire.
Sulking, getting angry and crying were some of the commonest antics of sore losers - whether they were parents or children.
One child in the survey described how, after losing at squash, their opponent kicked the wall and broke two toes.
Another recalled a team-mate who swore loudly when he lost, then ran and locked himself away in the toilets.
However, it was not all bad news; 96% of parents said their children were gracious in victory.
And three-quarters of children said they shook hands with the opposition after losing the game.
In response, the Marylebone Cricket Club and the Cricket Foundation, which commissioned the research, is offering sportsmanship lessons to schools from the start of the summer term.
The Spirit of Cricket initiative will teach young people in 4,000 state schools how to win and lose politely.
'Valuable lessons'
Head of cricket at MCC John Stephenson says: "Wanting to win and trying your hardest is important for anyone playing sport, young or old."
He added that the scheme highlighted merits of "healthy competition whilst discouraging a win-at-all-costs mentality".
Wasim Khan, former county cricketer and chief executive of the Cricket Foundation, said the initiative taught "young people one of the most valuable lessons in life: how to claim victory and accept defeat magnanimously".
"We want a child to 'keep a straight bat', not act like a sporting brat," he said.