Thousands miss chance of new English Bacc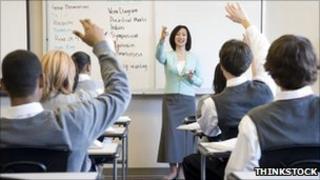 Thousands of teenagers in England had no chance of getting the new English Baccalaureate in their GCSEs, official data shows.
At 175 state schools, not one pupil was entered for all five of the traditional subjects counted in the new measure.
The information has come out with the publication of masses of new detail on schools' exam performance.
Parents are now able to see how local schools are doing on all 84 GCSE subjects.
The additional league tables data , published by the government, is an update to the secondary school league tables released in January and allows people to see which of their local schools perform best for particular subjects.
It also shows which schools might owe their league table positions to less academic subjects which are "counted" as GCSEs. Some vocational courses are equivalent to four GCSEs.
The English Bacc was brought in by the coalition government.
It is not a qualification in its own right, but is a measure of how many children get a good GCSE (A* to C grade) in English, maths, two science qualifications, a modern foreign language or classical language and either history or geography.
The January league tables showed that just 16% of 16-year-olds achieved the Baccalaureate last year.
Education Secretary Michael Gove says the Bacc is an "aspirational measure" which will drive up standards.
But head teachers complain it was brought in after pupils sat their GCSEs last year.
In more than half of state secondaries (1,600), fewer than 10% of pupils gained the necessary GCSEs, and 270 of England's state secondaries scored zero on this measure.
The new data shows that about 25,000 16-year-olds were in the 175 schools where no pupil was entered for all five of the subjects which count towards the Bacc.
Of this 175 total, 44 were academies - schools which are state-funded but independently-run.
Academies were promoted under Labour as a way of turning around failing schools.
The coalition government is encouraging all good schools to apply for academy status.
Transparency
Mr Gove has been accused of setting "retrospective targets" for schools - but says publication of this detailed data will give parents and others information they need and "shine a light on excellence".
"This is the next stage in our drive for greater transparency," he said.
"More information will allow people to identify the schools that are performing well and to interrogate schools about the choices they have made."
At 27 schools, no pupil was entered for a language counted in the Bacc; at 42 schools none was entered for the humanities component and at 33, none was entered for the science element.
At 544 state schools, no one was entered for a GCSE in music and at 862 no one took a GCSE in religious studies - even though pupils have to learn about religion at school.
There were no entrants for geography GCSE at 137 schools and none for history in 70.
The new data also shows the extent to which a school's league table position is influenced by points scored by pupils who took courses which were not GCSEs, but which were counted as such. These are usually vocational subjects.
Mr Gove says under Labour too many pupils were pushed towards less academic courses to boost their school's league table position.
Academies
National data published in January shows that, in 2009-10, in all state schools, the proportion of students gaining five good GCSE passes including English and maths drops from 55.2% to 50.5% when vocational equivalents are excluded.
But the new figures show that the gap in academies is much wider - the average proportion of students gaining the GCSE benchmark is 44% when equivalent courses (non-GCSE) are included, but drops to 33% when they are excluded.
Mr Gove said that as under performing schools started to turn around, they often focussed on improving English and maths and at the same time "relied" on a lot of vocational courses. But as they "stabilised", they went on to include more traditional academic subjects, he said.
He also said some equivalent courses were valuable and should be included in the GCSE tables. The Department for Education intended to review the current scores attributed to different courses.
English and maths have been included in the main measure since 2007 to stop schools relying so heavily on vocational qualifications.
Even so, when maths and English are not included, 72.5% of students achieve five good passes when vocational courses are included, but only 50.7% do when they are not.
The wealth of data being published will allow people to check how many pupils at an individual school took a particular GCSE and to see what grades they achieved.
Mr Gove said Labour ministers had taken a "political decision" not to publish such information, even though it was available to the Department for Education.
England is the only UK nation to publish school league tables.
Head teachers say the data shows schools are not using "soft options" to boost league table results, as claimed by Mr Gove.
Brian Lightman, general secretary of the Association of School and College Leaders, said: "Critics who accuse schools of inflating results with 'easy' subjects mislead the public and undermine confidence in our education service. Improvements in achievement over the last several years are due to schools and colleges introducing more appropriate, differentiated curriculum that engages all students, and not because students are pushed toward soft qualifications."
Mr Lightman added that all pupils in England's state secondaries had the opportunity to take the subjects that led to the English Bac.
"The data merely shows how many opted for the narrow choice of subjects included in that performance indicator," he said.
A spokeswoman for Pearson, which is the parent company of exam body Edexcel (which is behind the Btec vocational qualifications) said such courses were valuable.
"Independent research has shown that Btecs help students progress on to great jobs and top universities and we should be celebrating these successes," she said.
"We should gauge the value of qualifications by looking at which doors they open for young people in order to help them progress in their lives."