When pupils sit on teachers' job interview panels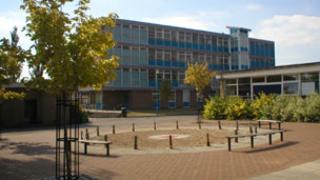 Pupils at Cherwell School in Oxford have more of a role in the recruitment of teachers than their peers in many other schools.
All candidates for teaching posts are asked to give a lesson, or part of one, in front of a class, on which students feed back.
And those seeking senior management posts are subjected to a tough interview by a student panel of pupils aged 13 and above, as well as by a number of adult panels.
Assistant head teacher Julie Stuart-Thompson says being a good teacher is not about having a wonderful CV and being good at talking to adults, they have to be skilful in the classroom.
"For someone who is doing a lot of teaching we need to have the pupils' feedback and we do that as a matter of course," she says.
And for those going for more senior posts, the interview by the student panel is no opportunity to rest in an already gruelling recruitment process, she says.
"It's a poor candidate who comes to this school and thinks the student panel is a push-over and whose opinions aren't taken into consideration."
The student panel, chosen from a pool of trained members, meets before the interview with a teacher to decide on the questions they will ask.
"They are given a bit of training about body language and the way people speak and they are told not to ask any extra questions because they know that would be unfair to the other candidates," she adds.
Mrs Stuart-Thompson, who was herself interviewed by members of the Student Council when she got her present job five years ago, says students can be very intuitive.
"They pick up things that adults don't notice or comment upon.
"Sometimes it's the way a candidate speaks about students, if they are patronising or if they think they are paying lip services to their questions - that really riles them."
'Market research'
The information gleaned by the students is fed back to the staff and governors in a number of different ways.
She says far from being out of their depth in the recruitment process, students often provide a great deal of insight and nearly always mirror what the adults are thinking.
She adds: "I think because they are our customers, we need to hear from them. If you were in a business we would not do anything important without market research.
"The more input we get from students the more likely we are to make a good decision."
But she says there are wider benefits to involving students in staff recruitment than just finding the right candidate for the post.
Not only does it give the students a sense of leadership and responsibility, she says, but if they can see the strengths and the qualities of the teachers they will appreciate them more.
She adds: "We like to empower our students to do things. Children will rise to the bar - however high you raise it."