Leeds Met University says it will charge £8,500 fees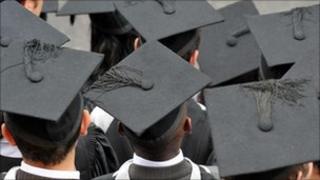 Leeds Metropolitan has become the first of the newer, less selective group of universities to officially announce its new fee level.
The former polytechnic and member of Million+ group of newer universities has said it will charge £8,500 for all full-time undergraduates from 2012.
The government has said universities would only be able to charge higher fees in exceptional circumstances.
Leeds Met said it faced tough choices and huge cuts in funding.
'Proud history'
Announcing the fee level, the chair of the board at Leeds Metropolitan University, Lord Woolmer of Leeds, said: "We are totally committed to providing a high quality student experience.
"In the face of huge cuts in government funding we face difficult and tough choices.
"We shall continue to secure cost savings but it is essential that we remain able to invest in high quality university education and facilities for our students.
"We have a proud history of widening participating and will continue to support access into higher education and ensure that our students are successful at university and after they graduate."
Like all universities, Leeds Met will have to seek approval for its fee level of £8,500 for all full-time undergraduate courses, together with a package of widening participation measures from the Office for Fair Access.
It has only been a university since 1992 but has provided education in the city of Leeds in a range of predecessor institutions since 1824.
'New fees regime'
So far, the universities of Oxford, Imperial College, Durham, Exeter, Essex, Surrey, Manchester, Warwick, Aston, Birmingham, Lancaster, Cambridge and University College London have said they want to charge the maximum yearly tuition fee.
But most of these are the more selective, research-based universities.
Only a few universities have said they will charge below the maximum.
This is significant because the Department for Business Innovation and Skills has based its funding of universities under the new fees regime on the assumption that universities will charge an average of £7,500.
It has warned that if universities tend to go higher than that then funds will be lost from the teaching.
However, Bishop Grosseteste University College in Lincoln has said it wants to charge £7,500 for most courses.
UCU general secretary, Sally Hunt, said: "What we are seeing at the moment feels like the beginning of a trend as universities struggle to deal with the impact of the heavy cuts and how to price up their degrees to compensate.
"Our own research shows that all English universities institutions will have to charge more than £6,000 just to break even following devastating funding cuts with many worried about their reputation if don't charge close to the maximum."