Parent threatens action over Sure Start closure plan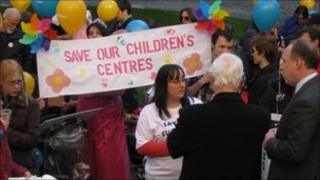 A council is being threatened with a High Court challenge over its plans to close or merge 28 Sure Start children's centres.
Solicitors acting for a parent have asked Hampshire County Council to withdraw its consultation on the plans.
They argue it is not a genuine one as the council has already said it will cut £6m from the Sure Start budget.
The council says it will continue with the consultation.
In February, Hampshire councillors backed a budget decision to save £6m from its Sure Start budget and to transfer the running of the centres out of council hands to alternative providers.
'Open-minded consultation'
Hampshire is one of many councils across England planning reductions to its Sure Start centre budgets after central government cut the grant which funds them by 11%.
Ministers have said they want to the centres, which offer support to parents and children, to refocus on their original aims of helping the most disadvantaged.
Hampshire says the savings will come from merging and streamlining some centres' management structures and will keep front line cuts to a minimum.
Its plans include reducing the overall number of managed centres from 81 to 53.
The parent who has launched the legal challenge, backed by the Save Our Children's Centre Hampshire, is a member of the county's Rowner Sure Start Centre in Gosport where her daughter attends.
Her solicitors argue that the consultation currently underway is "disingenuous" and that any decision based upon its outcome would be unlawful.
Rosa Curling, of Leigh Day and Co Solicitors representing the parent, said: "The local authority has a clear duty under the Childcare Act 2006 to consult users of Sure Start Centres about any proposals which it may be considering about centre closures.
"This consultation must take place at a time when the council is open-minded and has made no definite decisions.
"Hampshire County Council is currently in breach of this duty and we have advised our client that unless the council agrees to withdraw its current consultation and reinstate the child centre budget, an application to the High Court be made without delay."
The council now has until April 6 to respond by retracting its consultation or face a possible judicial review in the High Court.
A spokeswoman for Hampshire County Council said: "We remain confident as to our position and are continuing with the consultation.
"We are proud of how children's centres have developed in recent years and want to ensure that they are secure for the future.
"Nevertheless, the money we receive to run the centres has been significantly reduced.
"Following feedback from SOCC and others, the consultation period was extended and additional consultation documents made available."
But Ms Curling added that the case could have ramifications for other councils across England and Wales which are taking similar steps.
"This case solely relates to Hampshire but I suspect it will remind other councils of their legal duties to act lawfully in such matters."
'Think again'
Catherine Ovenden, one of the founders of the Save Our Children's Centre Hampshire, said the council was ignoring the views of many of its citizens.
She said her campaign group had gathered 12,000 signatures on a petition against the cuts and closures.
She said: "We feel deeply saddened that a parent has had to pursue this route of judicial review.
"We had hoped that the decision regarding the future of these essential services would have been protected at the annual council budget meeting in February.
"We urge Hampshire County Council to please think again and realise the importance of early intervention schemes that Sure Start offers."
Shadow children's minister Sharon Hodgson said: "Ministers need to listen to the calls of these parents, whose campaign is proof that the Tory-led government's choice to cut funding for early intervention by an average £50 per child - and take away the ringfence that protected it - is having a disastrous effect on the ground.
"The rhetoric is that there is enough money to keep Children's Centres open, but the reality is that they are closing up and down the country."