Budget: Plan to expand university technical colleges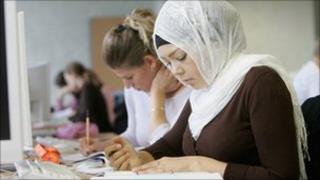 Chancellor George Osborne has announced the number of planned new university technical colleges (UTCs) is to be doubled from 12 to at least 24.
As partnerships between universities, colleges and businesses, UTCs will provide technical training for 11 to 19-year-olds, Mr Osborne said.
In his Budget, he said he would fund an extra 40,000 apprenticeships, plus 10,000 higher-level training places.
There will be 100,000 places on a new work experience scheme over two years.
This is up from the 20,000 places previously stated.
Apprenticeships
In his Budget "for growth", Mr Osborne said £180m would be made available for up to 50,000 additional apprenticeship places over the next four years.
He said these places would provide additional capacity to support young unemployed people, in particular through progression from the work experience programme.
The Chancellor has pledged funding for 24 UTCs.
Sponsors of UTCs will help set up a curriculum to match the needs of the local economy, provide work placements and allow colleges to use their specialist facilities.
Lord Baker, the former Conservative Education Secretary, who has been involved in developing the new colleges, predicted last year that there would be 15 to 20 colleges by 2012, with the numbers eventually likely to rise to 40.
Science research
Mr Osborne also announced a £100m investment in science research.
Of this, £80m will be allocated to develop the national research campuses at Daresbury, Norwich and Cambridge.
And £10m will fund three further instruments at the ISIS neutron source in Harwell.
The remaining £10m will start a National Space Technology Programme, which will be match-funded by industry.
The University and Colleges Union welcomed moves to increase the number of apprenticeships, but raised concerns about the increase in the number of UTCs.
General secretary Sally Hunt said: "We fear they will divert money away from further education colleges, reintroduce selection at 14 and create a two-tier system in further education."
The university think-tank Million Plus welcomed the 40,000 additional apprenticeships and 10,000 higher-level apprenticeships, but said more must be done to help the young and unemployed get on.
Chief executive Pam Tatlow said: "The government must do more to ensure that young people have a real choice and have the opportunity to achieve a degree or advanced technical qualification or apprenticeship and get a good job.
"The government has missed an opportunity by not investing in additional university places this year - the freezing of student numbers in 2011 makes no sense."