Families spending less, third of children tell survey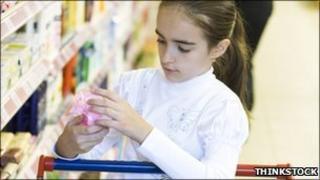 A third of UK 11 to 16-year-olds surveyed by the BBC said their families have cut back on spending amid the economic downturn.
Crime topped the list of personal fears of the young people surveyed, while terrorism and climate change were their biggest global concerns.
Most respondents had internet access at home; 67% had it on a mobile phone.
More than 24,000 pupils in more than 300 schools participating in the BBC's School Report programme were surveyed.
The survey, carried out by the Royal Statistical Society Centre for Statistical Education (RSSCSE) at the University of Plymouth, was one of the biggest of its kind.
The young people were asked a wide range of questions about their home lives, school experiences and views on current affairs.
The results, published three days before national census day, showed that 33% of those surveyed said their families had cut back on spending because of problems in the economy - while one in five had less money spent on their Christmas presents in 2010, and 32% knew someone who had lost their job.
When respondents were asked to identify up to three of the biggest dangers they faced, 53% listed crime, 50% said alcohol and drugs and 35% said terrorism.
On a similar question regarding threats to the world, terrorism topped the list (59%), followed by climate change (49%) and nuclear weapons (42%).
Technology featured highly in the young people's responses.
Only about 3% of those surveyed said they did not have a mobile phone, and 2% did not have a computer.
And 13% of respondents said they never helped adults in their families to use the internet - 60% said they helped adults find websites, while 48% said they had helped them send e-mails.
Future hopes
Of the young people questioned, 40% said they believed in God, and 32% did not - although 53% identified themselves as belonging to a particular faith.
When asked about their future hopes, 57% of respondents said they thought they would go to university.
"Owning your own home" (35%) and "earning a lot of money" (31%) topped the list of aspirations for life at the age of 30, among those asked, followed by "being married or having a partner" (26%), "being happy" (24%) and "having a worthwhile job" (20%).
The young people surveyed were also asked how they felt about the area they lived in.
Nearly half (45%) of those surveyed liked living in their local area "a lot", although 18% said they only felt safe "some of the time" in their locality and 4% said they "never" felt safe there.
On current affairs, 45% of respondents said they were not interested in the Royal Family, or did not think the UK should have one, compared with 32% who said they liked or were proud of the Royal Family.
Nearly 66% of those surveyed said they were interested in the London 2012 Olympics, while 48% said they would vote when they were old enough.
The online survey was open for six weeks and in that time 24,052 children from more than 300 schools completed up to 29 questions. The average response rate per school was 73 pupils, but figures varied widely from 1 to 784.