England's teacher trainees 'do worse' in maths tests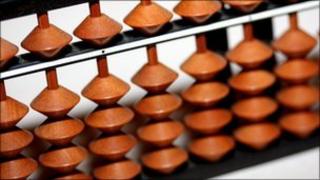 England's trainee teachers have less mathematical knowledge than their peers in some of our major economic competitors, a study says.
Teacher trainees in Japan, China and Russia, easily outperformed those from England in simple mathematical tests.
The study for charity CfBT Education Trust found a big variation in the subject knowledge of England's trainees.
It suggests raising the maths entry requirement for primary teachers.
To teach at primary level in England teachers need a GCSE grade C in maths or above. But the report recommends increasing this, over time, to an AS level.
And it calls for secondary maths teachers, who are currently expected to have an A-level in maths, to take specialised mathematics enhancement courses which concentrate on the mathematical and teaching skills needed to be an effective teacher.
The two-year study for the CfBT charity, carried out by researchers at the Centre for Innovation in Mathematics Teaching at Plymouth University, subjected 1,400 teachers to a series of mathematical tests.
There was a group of between 100-200 volunteers taking part at both primary and secondary level in each country.
England's primary trainee teachers came second to last out of eight countries with a score of 32.2 out of 60.
Japan led the pack with 52.9 out of 60, followed by China on 43.1 and Russia on 41.7.
'Variable quality'
England was also more narrowly outperformed by Finland, Ireland, Hungary but finished above Czech Republic.
At secondary level, where teachers specialise in subjects, maths trainees in England came second to last out of seven countries, with only those in Hungary finishing lower.
Russia, China, Japan and Singapore were significantly ahead of England's score of 26 out of 40.
The greatest variation between individual trainees' results was found in the English group, pointing to a variable quality of new teachers.
Study author Professor David Burghes said England had a problem with maths teaching that did not seem to be replicated in other countries.
He added: "I don't think many of our trainee teachers have enough conceptual understanding of mathematics at the primary level.
"Countries that do well at mathematics tend to have a strong foundation at primary school."
'High turnover'
The researchers also highlighted the high turnover of maths teachers in England's secondary schools.
Researchers gathered more information from the English group through an attitudinal survey, which suggested the trainees were highly motivated and the majority had intended to remain in maths teaching for their whole working life.
But the reality is that most stay for about three or four years.
The report said: "This does lead us to question what happens to these trainees over the next few years which results in such a poor retention rate in English schools?"
It also called for new university training schools to be set up in which trainee teachers could train.
They would combine theoretical and practical learning, and would maintain a link between trainees and university tutors.
Education director at CfBT Education Trust, Tony McAleavy, said: "The establishment of university practice schools otherwise known as university training schools, is the most important decision that could be made for taking the profession forward.
"This would ensure less variation in standards and would ensure that there would be peer support for new teachers in their first practice; something that has currently been lacking."
A spokesman for the Department for Education said an improvement in maths teaching was needed: "Currently we languish at 27th in the international league tables for maths, plummeting 19 places in under 10 years."
"In the schools White Paper we set out how we will attract the best maths graduates into the teaching profession, by expanding the Teach First programme and providing stronger incentives, whilst raising the bar for entry into PGCE teacher training by requiring at least a 2:2 degree to receive DfE funding," the spokesman said.