Graduates 'could pay back double their student loans'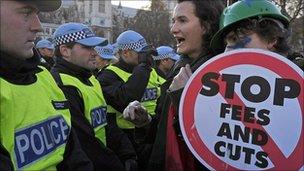 Some graduates could end up paying back double their original student loans under the new fees system in England, figures calculated for the BBC suggest.
The figures, by leading accountants, show that a student borrowing £39,000 for a three-year course could pay back up to £83,000 in total, in cash terms.
Under the regime, due to begin in 2012, graduates will pay back 9% of earnings above £21,000 for up to 30 years.
The universities minister said the new system was fairer than the old one.
He said it was "less burdensome" that monthly repayments were lower but spread out over a longer period.
From 2012, universities will be able to charge up to £9,000 per year, which will be paid upfront by the government but paid off once the student starts earning £21,000 or more.
Students will also be able to take out maintenance loans ranging from £3,575 to £5,288, depending on their family's income.
Interest on the loan is expected to range from inflation only, to inflation plus 3%, with higher earners paying higher interest.
After 30 years, any unpaid debt is written off.
The accountancy firms, which include Baker Tilly, modelled the payments for BBC Breakfast over the lifetimes of three fictional students.
The calculations assumed all the students borrowed a total of £39,000 - £9,000 in fees and £4,000 for maintenance over a three-year course - and go on to earn above the national average.
The speed at which the loans will be paid off depends on the earnings of the graduate.
The first student begins on average earnings, and gets a £1,000 pay increase each year.
After 30 years, the student has paid back £78,882 in cash terms, and still owes £14,513, which is written off.
The second student gets a £2,000 per year rise over and above average pay, and clears the debt completely in 25 years, paying a total of £83,791 in cash terms.
The third student gets paid £4,000 above average earnings, paying off the debt in 18 years - a total of £71,873 in cash terms.
The figures do not account for the way the value of money will change because of inflation over the period during which the loan is paid off.
Under the current system, students starting in 2011 might borrow £3,375 for each year's tuition, as well as maintenance loans ranging from £3,838 to £6,928 a year - leading to a debt in the region of £25,000 for a three-year course.
This is paid back at 9% of all income above £15,000 - which means a graduate on a starting salary of £25,000 would pay 9% of £10,000 under the old system, but 9% of £4,000 under the new system.
The interest rate under the current system is no higher than inflation (RPI).
Universities Minister David Willetts told the BBC that he would be "terrified" if a child of his left university with a £25,000 credit card debt, but the new system was "in between" a credit card debt and an income tax.
He said graduates could expect to earn £100,000 more over their lifetimes than those who had not been to university, and the system was "by and large a good deal".
Stretching out repayments over a longer period means monthly payments will be lower than at present for many students.
Mr Willetts said this was "a deliberate decision that we're going to ease the burden on people in their 20s and 30s, but it does mean people pay over a longer period".
"I think people will easily be able to afford this 9%," he said.
He added that the cases the accountants had modelled were "by no means typical", and that the value of an £80,000 debt would be different in 30 years' time.
"Taking cash figures and looking 30 years ahead is a rather odd way of doing it," he said.
Ministers are currently consulting on whether there should be penalties for repaying the loans early, he said.
The government says around a quarter of graduates, those with the lowest lifetime earnings, will pay less than under the current system.
Students from the poorest homes will be eligible for grants which they do not have to pay back, and the government has also promised a £150m national scholarship fund.
John Whiting of the Chartered Institute of Taxation said the system was a bit like a student "buying their education on hire purchase, a bit like a mortgage".
"If somebody takes a significant loan it's going to take them a long time to pay it back, and they are going to be paying twice even three times the amount if it takes them a long time to pay it back," he said.
But Professor Nick Barr of the London School of Economics said the system was fair and proportional to the person's earnings.
"It's a payroll deduction. It's week by week, it's month by month, it's exactly tailored to each individual's earnings and therefore it's not something that harms people. It's what gives them an opportunity to go to university," he said.
The fees plans apply only in England.
In Northern Ireland, a report commissioned by the Department of Employment and Learning (DEL) has recommended that fees should rise to a maximum of £5,750.
In Wales, students are protected from increases in tuition fees, with the Welsh Assembly Government subsidising the cost of higher fees.
In Scotland, students do not pay tuition fees.
Related Internet Links
The BBC is not responsible for the content of external sites.